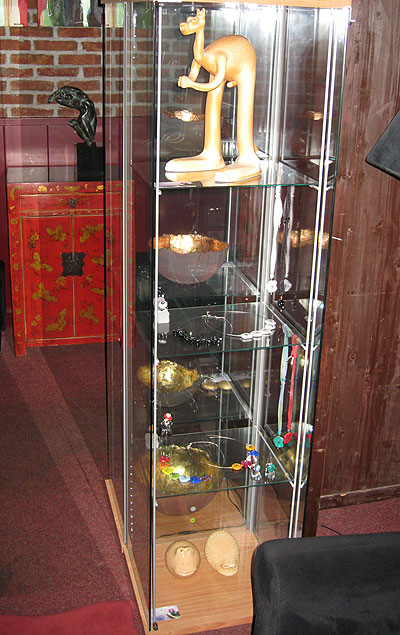 Groot Kralalien nieuws dit keer, want ik kan eindelijk vol trots vertellen dat sinds deze week een collectie van mijn sieraden in expositie ligt bij restaurant Yuen's Oriëntal in het centrum van Enschede. Ik heb vandaag zelf een kijkje genomen bij de vitrine en ben helemaal blij. Het is heel bijzonder om je eigen werk te zien liggen in een vitrine! Het is zo anders dan gewoon thuis op een buste of op tafel.
Big Kralalien news this time, because I can very proudly say that since this week a collection of my jewelry is in exhibition at restaurant Yuen's Oriëntal in downtown Enschede. I took a look today at the showcase and I'm so happy. It's so special to see your own work in a showcase! So different than just at home on a bust or on a table.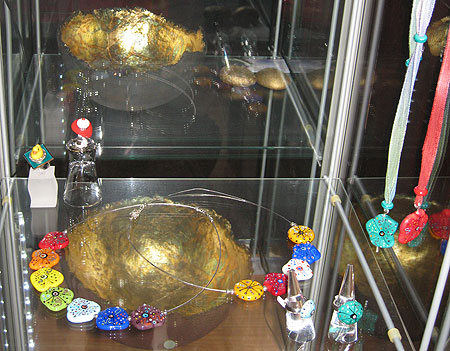 Naast mijn sieraden is er nog veel meer kunst te bewonderen, schilderijen, keramiek, beelden, alles in wisselende collecties. En zeker niet te vergeten, overheerlijk eten! Yuen is een kok met een enorme passie voor lekker eten/koken en zet echt elke keer weer de lekkerste gerechten op tafel. Charlotte is een geweldige gastvrouw, die haar vak zeer goed verstaat en een groot liefhebber is van kunst. Zeer de moeite waard dus om eens een kijkje te gaan nemen! In combinatie met mijn expositie is er een leuke aanbieding, een 2-gangen verrassingsmenu wat je kunt reserveren onder vermelding van kunstenaarsmenu Kralalien.
Besides my jewelry there is way more art to admire, paintings, ceramics, statues, all in changing collections. And not to forget, delicious food! Yuen is a great chef with a passion for food/cooking and he makes the best dishes time and time again. Charlotte is a great host, who really knows her job well and loves art. Really worth to check it out! In combination with my exhibition there is a nice offer, a 2 course surprise menu that you can order by artist menu Kralalien.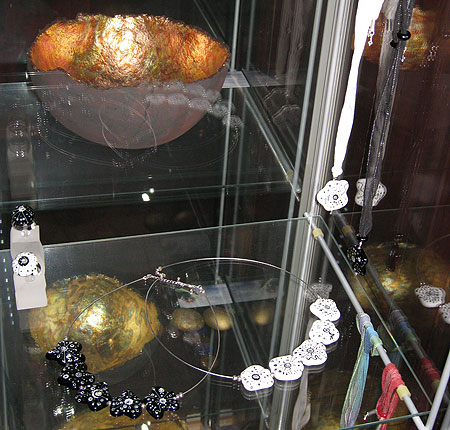 Op de foto's de collectie zoals deze er nu bijligt, alles is te koop, dus mocht je interesse hebben, ga gerust langs! En ook als je niet wilt kopen, maar alleen wilt kijken of lekker eten, zeker doen! Ik hoor graag wat je ervan vindt 🙂
In the photos the collection the way it was tonight, everything is for sale, so if you're interested, pay them a visit! And if you're not willing to buy, but just want to have a look or some nice food, certainly do! I love to hear what you think 🙂