vliegt echt voorbij, zonder dat je er erg in hebt. Het was een maand met vallen en opstaan. Bij mijn vorige bericht had ik de griep, voor het eerst in mijn leven. Hoge koorts, totaal onbekend voor mij. Gelukkig ging het na anderhalve week al een stuk beter en is het allemaal wel weer oke. Toen begon echter de rugpijn, soms zo erg dat ik nauwelijks kon lopen. Ik voelde me 80+ zoals je oude omaatjes in het bejaardentehuis soms ziet schuivelen. Vreselijk voelt het. Maar er waren ook ups, zoals bijvoorbeeld onze mooi beklede trap. 3,5 jaar hebben we gepoogd onszelf te motiveren om de 6 lagen lijm eraf te krabben en schuren. Maar meer en meer kwamen we tot de conclusie dat dat niet ging. Nu lukt het ons allebei niet meer, dus dan maar de stap zetten om de lijm een laagje extra te geven en er mooie vloerbedekking op te leggen. Oh wat is dat heerlijk en mooi!
goes by so fast. It was a month with lots of ups and downs. When writing my previous post I had the flu, for the first time in my life. A high fever, totally unknown for me. After about a week and a half I got back on my feet again and by now everything is okay again. But the the back pain started, sometimes even so bad I could hardly walk. I felt 80+ like old grannies in the retirement home. Awful. But there were ups too, like our nice stairs. 3,5 years we tried to clean 6 layers of glue of it. But more and more we had to admit that it wasn't possible. We both couldn't do it anymore, so we decided to give it a new layer of glue and put a nice carpet on it. Oh it's so nice and pretty!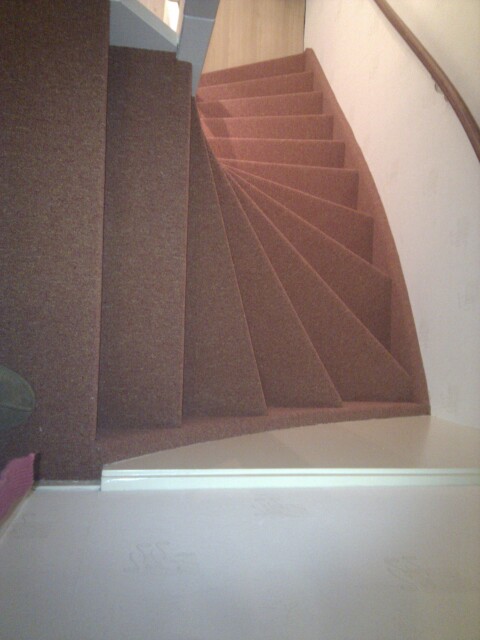 En omdat de expositie goed loopt, heb ik mezelf een kadootje gedaan. Een mooie dubbele drukkerarmband van Noosa, om mijn zelfgemaakte chunks te kunnen dragen (en showen als reclame 😉 ).
And because my showcase is going well, I bought myself a gift. A nice double bracelet by Noosa, to wear my handmade chunks (and show them like a walking billboard 😉 ).