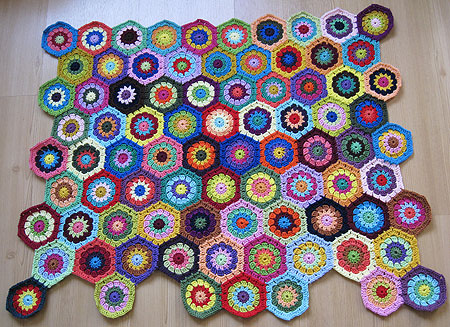 Al een tijdje geen granny a day update gedaan, maar dat betekent natuurlijk niet dat er de brui aan gegeven heb 🙂 Soms moet ik wat inhalen, soms haak ik wat vooruit, maar vandaag ben ik weer helemaal precies bij. Inmiddels al 83 hexagons en het wordt al een leuk dekentje.
I haven't shown my granny a day for a while, but that doesn't mean that I quit making it 🙂 Sometimes I have to catch up a bit, sometimes I work ahead, but today I'm at day 81. With 83 pretty hexagons it's starting to look like a nice blanket already.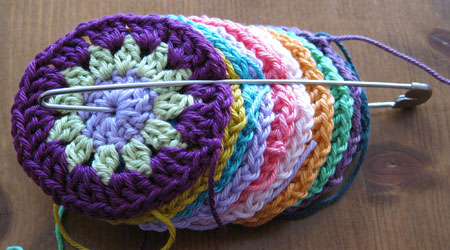 Ik heb al wel voor de rest van de maand vooruit gewerkt met de eerste 3 toeren. Ik hoef ze dan alleen nog maar aan de deken vast te zetten, zo eenvoudig en lekker werken als je ze gelijk vastmaakt.
I've worked a bit in front already for the rest of the month with the first 3 rounds. I only have to attach them to the blanket, very easy and saves a lot of time and work if you join them as you go.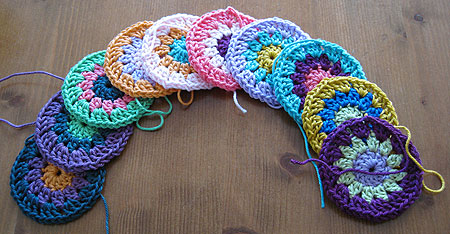 De rondjes zijn op 1 draadje na al helemaal afgehecht, dus ik hoef straks maar 3 draadjes af te hechten. Ook weer fijn, want dat blijft een heikel punt, niet mijn favoriete bezigheid 😉
These rounds are already fastened off except for 1, so I only have to fasten off 3 more strands. Very nice, since I really don't like that 😉