Ik was nooit zo'n fan van risotto maken, omdat je toch vaak hoort en ziet op tv dat het lastig en intensief werk is. Nu kregen manlief en ik bij ons trouwen een prachtig kookboek kado, met de verzamelde lievelingsrecepten van onze vrienden en familie erin. Hierin ook een recept voor risotto dat door een vriendin was gekookt voor haar nieuwe vlam. Inmiddels wonen ze al flinke tijd samen, dus het moest wel een goed recept zijn 🙂 Ik heb het een flinke tijd geleden al eens geprobeerd, in de zomer toen we tuinbonen in ons groentepakket hadden. Dit was namelijk het originele recept, tuinbonen risotto met tijm. Nu ben ik niet zo'n recepten koker, ik ben zo'n kok die liever uit de losse pols kookt en een beetje van dit en een beetje van dat toevoegt. Dus ook dit recept kreeg een slinger en werd toen zo in een rode bieten risotto verandert, toen mij dat een keer beter uitkwam. Sindsdien is het een regelmatig terugkerend gerecht, aangezien we toch met enige regelmaat versie bieten in het groentepakket hebben. We zijn er dol op, terwijl ik vroeger bietjes verafschuwde… wat zelf koken al niet kan doen 😉 En aangezien ik een aantal keren al de vraag kreeg naar het recept van mijn rode bieten risotto, bij deze maar eens een keer. Best grappig koken met de camera bij de hand 🙂
I never was big fan of making risotto, because on tv you hear and see that it's quite tricky and time consuming work. On our weddingday we got a beautiful cookbook with all the favorite recipes of our friends and family. Also a nice recipe for risotto a friend made for her new lover. They live together for quite some time now, so it must be a good recipe 🙂 I've tried it quite some time ago now, in the summertime with broad beans from our weekly vegetable package. This was the original recipe, broad beans risotto with thyme. Now I'm not fond of recipe cooking, I'm more the type that adds a little bit of this, and a little bit of that… So I changed this recipe too, into beetroot risotto, because it fit me better that day 😉 Since then I regularly make that dish, since we have beetroot regularly in our vegetable package. We love it, and that while I hated beetroot when I was young… what a change making things yourself can give 🙂 And since I've been asked for the recipe of the beetroot risotto more than once, I thought well let me write about that. Quite funny to cook with a camera at hand 🙂
Wat heb je nodig/_What do you need:
_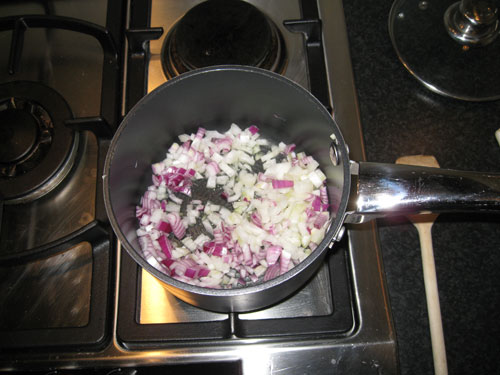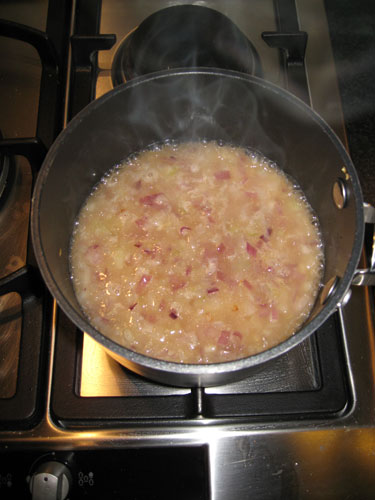 Ik heb in dit geval een rood en een wit uitje gesnipperd. Even in de olie aanzetten en glazig bakken. Vervolgens de rijst toevoegen. Neem per persoon 1 soeplepel, bij mij is dit ongeveer 75 gram. Bak de rijst even mee. Voeg nu de warme bouillon toe, 1,5 lepel per lepel rijst en nog 1 lepel extra. Ik heb voor 2 personen aan 500 ml bouillon genoeg. Nu komt het makkelijke aan deze risotto, breng het aan de kook, draai het gas laag zodat het net pruttelt en laat het 18 minuten staan met de deksel op de pan. Ik spiek af en toe stiekem, maar eigenlijk is dat niet nodig. Let er wel op dat je een dichte deksel hebt. Als je er een gaatje in hebt zitten, kan het zijn dat je bij het spieken ziet dat het wat droog is en dat je dus een lepel bouillon toe moet voegen.
I've chopped a red and a white union today. Just put it with the oil in the pan and bake it short. Now add the rice. Take 1 ladle per person, which is for me about 75 grams. Bake the rice a little bit. Now add the hot broth, 1,5 ladle per ladle rice and 1 ladle extra. For 2 persons 500 ml of broth is enough. Now the easy part for this risotto, bring to boil and turn the gas low so it simmers and leave it for 18 minutes with the lid on the pan. I take a sneak peak sometimes, but that's not necessary. Make sure the lid is closed, when there's a little hole in it, it could be that you see while peaking, that it's a little bit dry and you have to add a ladle of broth.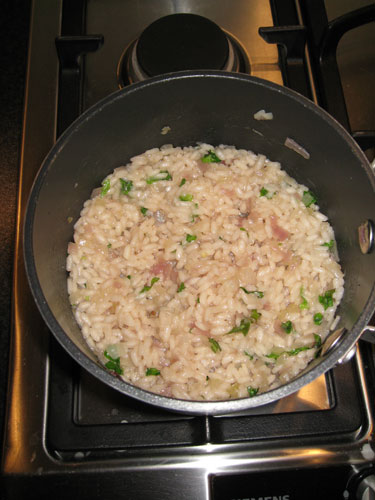 Nu de risotto klaar is, kun je de andere ingrediënten toe gaan voegen. Hierboven is de basilicum al toegevoegd.  Nu is het de beurt aan de rode bieten. Ik heb biologische verse bieten gebruikt, die heb ik 's middags al gekookt aangezien dat met winterbieten anderhalf uur duurt ongeveer… Daarna heb ik ze in kleine reepjes gesneden dit keer. Dat wisselt bij ons per keer, dan wat groter, dan weer kleiner, soms blokjes, soms plakjes… Doe hier lekker waar jij zin in hebt dus 🙂
Now the risotto is finished, we're adding our other ingredients. Above the basil is already added, so now it's time for the beetroot. I've used biological fresh beetroots, that I've boiled in the afternoon, since the winter version takes about an hour and a half… Then I've sliced them in thin strips this time. It changes from time to time, sometimes I slice it bigger, sometimes smaller, sometimes cubes, sometimes slices… so do what you like 🙂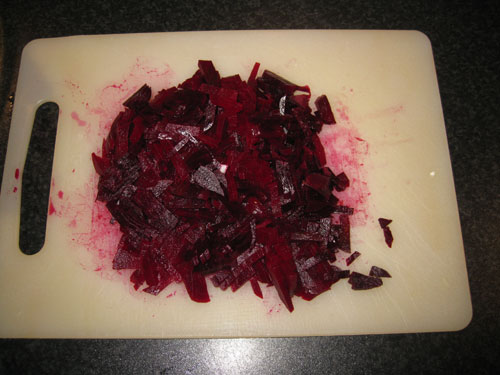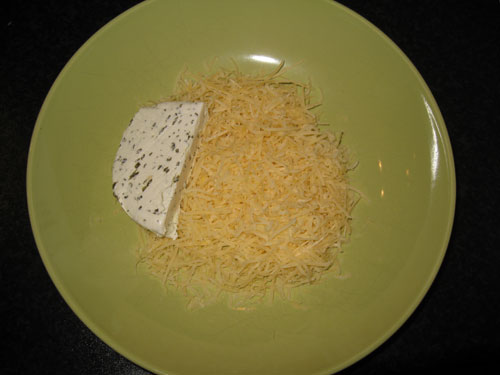 Dit keer heb ik een belegen kaas gepakt en geraspt en een stukje knoflook geitenkaas. Dit had ik in huis en dat doe ik meestal. Ik kijk wat ik lekker vind en neem dat gewoon, je kunt ook wel parmezaanse kaas nemen, maar ik vind dat gewoon minder lekker. Ik hou van wat meer kaassmaak 😉
This time I took a matured cheese and grated it and a piece of garlic goats cheese. This is what I had in the fridge, and that's what I do most of the times. I look what I like and take that, you could take a parmesan, but I just don't like it that much. I like some more cheese flavour 😉
__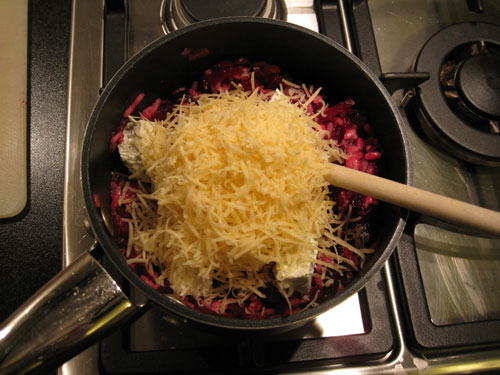 Ik zet de pan op een laag pitje en dan roer ik alles door, zo kunnen de bietjes lekker opwarmen en smelt de kaas er lekker doorheen. En als je het dan goed gedaan hebt krijg je een lekkere risotto zoals helemaal aan het begin van dit bericht. En uiteraard daarna hopelijk hetzelfde als de onderstaande foto 🙂
I put my pan on a low heat and stir everything in, so the beetroot can warm and the cheese will melt through it. And if everything went well, you'll end up whit a nice risotto like at the start of this post. And of course after that hopefully the same as the picture below 🙂