Onlangs heb ik meegedaan aan een bloemenswap op Twitter. De bedoeling hierbij was om te haken, naaien, breien of wat voor textiele werkvorm dan ook en hier een A4 envelop mee vol te stoppen en die op een bepaalde datum te versturen naar je swappartner.
Recently I joined a flower swap on Twitter. You had to crochet, sew, knit or any other textile art, to fill up an A4 envelope and to send it on a special date to you swappartner.
Mijn pakketje moest naar België, wat een spannend gebeuren bleek aangezien de post er ruim een week over gedaan had. Maar gelukkig kwam alles goed, Hemelvaart zat er tussen en dat zorgde voor wel meer vertraagde post. De swap voor mij kwam ook pas op de originele openingsdag aan. Heel erg spannend en leuk om te zien wat iedereen gemaakt heeft en wat anderen gekregen hebben.
My package had to go to Belgium, afterwards a little nervewrecking, since the mail took more than a week. But everything turned out to be okay, Ascension day was between it and caused the delay in the mail. My swap was also a little late and came on the opening day. It was very exciting to see what everybody made and what other got.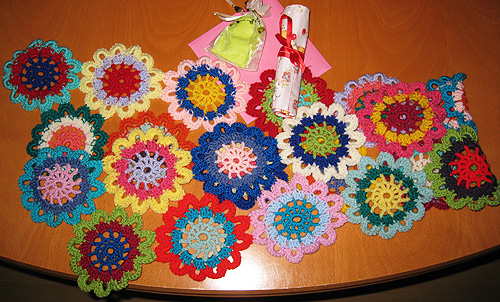 Dit is wat ik naar mijn swappartner gestuurd heb, een Japanse bloemensjaal, een haaknaaldenetui en in het zakje zit een telefoonhanger met een bloemen kraal.
This is what I send to my swappartner, a Japanese flower scarf, a crochet needle case and in the bag is a phone charm with an encased flower bead.
__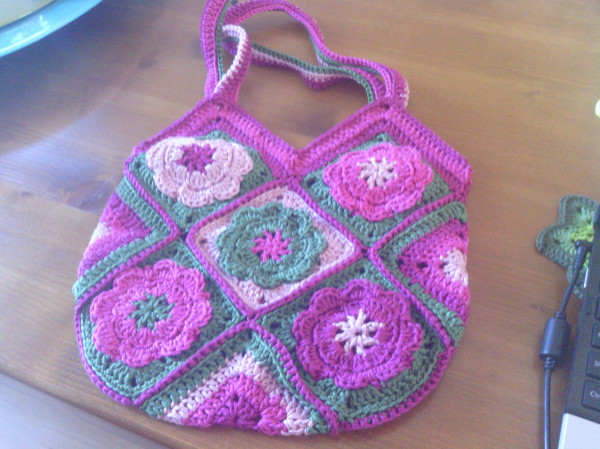 En dit is wat ik gekregen heb, een prachtig bloementasje! Echt onwijs mooi gemaakt door mijn swappartner!
And this is what I got, a beautiful flower bag! Really nicely made by my swap partner!