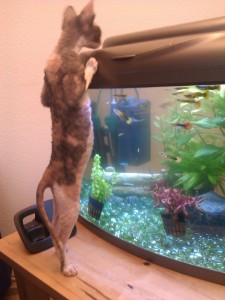 Maart al weer en wat een maart, de ene week zit je lekker in de tuin in de zon met een boek en de andere week zit je weer in de sneeuw en vrieskou! Mijn verjaardag ging redelijk ongemerkt voorbij, ik heb me in al die jaren nog nooit zo niet-jarig gevoeld geloof ik. En dat lag niet aan de lieve wensen, visite en kadootjes, maar voor mijn gevoel was het nog niet zover, we waren toch nog maar bij januari? Blijkbaar niet, want nu is het al bijna half maart, waar blijft de tijd! We hebben onze handen vol aan onze donderstenen, door de antibiotica zijn de darmpjes ook van slag dus we moeten ze regelmatig van de bak afvangen en even in bad stoppen. Dat betekent dus altijd opletten en regelmatig een strijd. Donderdag weer naar de dierenarts, eens kijken of het dan al over is, of dat we het dan toch nog even aankaarten. Gelukkig voelen ze zich verder prima, ze eten goed, groeien flink, ravotten met grote regelmaat en slapen veel, zoals katten horen te doen 😉
March, when did that happen?! It's a pretty strange month already, one week you can sit in the garden in the sun with a nice book, the other week it's snow and freezing cold! My birthday went by pretty unnoticed, I haven't felt that way ever before I guess, it just didn't feel like my birthday, it was only January right? Well no, since it's already almost half-way March, somebody must have stolen some time! We've got a lot of work with our two new homies, because of the antibiotics their tummies are a bit upset, so we have to catch them from the litter box and bathe them. That means a lot of extra attention and struggle. Thursday we have to go to the vet again, we hope it will be over by then, otherwise I'll ask her.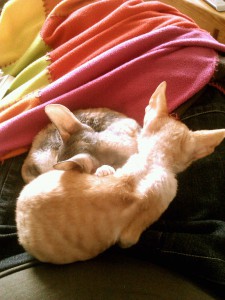 Ik heb truitjes voor ze gehaakt, omdat ik die tip kreeg van een vriendin met ervaring met Cornish rexen. Omdat ze in de winter erg koud kunnen worden en we ook dan soms naar buiten moeten, is het handig ze aan te leren truitjes te dragen.
Van haar kreeg ik voor mijn verjaardag 4 bollen wol om truitjes te maken. Hieronder een foto van de eerste truitjes en een foto van de kittens met hun truitjes 🙂
I've crocheted sweaters for them, because I got the tip from a friend who also has 2 Cornish rexes. Since they can get very cold in winters and we have to go outside then too, it's a good idea to let them get used to wearing sweaters. From her I got 4 skeins of wool to make them sweaters, and here you can see the first two and a photo of the kittens wearing them 🙂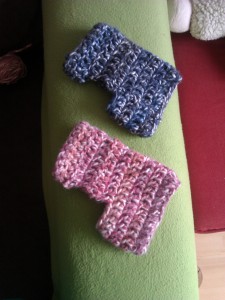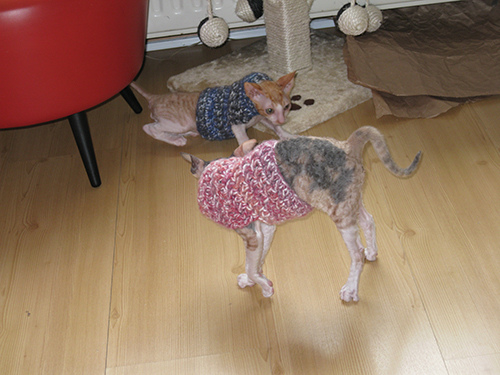 Verder heb ik een grote chunkbestelling, 150 stuks, zeehondjes en vuurtorens, speciaal voor een winkel op Ameland. Zo leuk om te doen, maar het moet wel in de slaapjes van de kittens gebeuren, want anders kan ik nog meer badderen met die vieze lijm…
_
Further I'm busy with a big chunk order, 150 pieces, seals and light houses, especially for Ameland. I love to do that, but I have to do it while the kittens sleep, otherwise I have to bathe even more with the dirty glue…_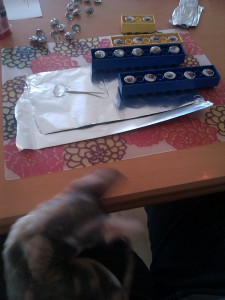 Haken gaat langzaam, want als ze wakker zijn is het draadje dat zo leuk beweegt natuurlijk machtig interessant! Gelukkig heb ik gisteravond een inhaalslag kunnen maken en heb ik de eerste 10 granny squares voor een twitterswap al afgemaakt. Alleen nog afhechten. Nog 14 te gaan voor de tweede persoon.
Crochet is going slowly, since when they are awake, the little thread that moves around so much is so very interesting and really has to be killed! I'm happy I could do something last night, hiding behind my laptop, while they were on the radiator "sleeping". I've finished 10 granny squares for a twitter swap. I only need to weave in the ends and make 14 more for the second person.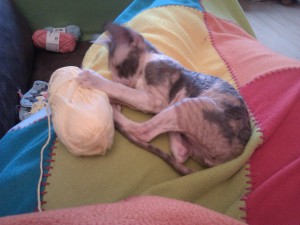 Kralen maken is al weken niet gebeurd en ik mis het enorm! Zeker als ik weer eens kralen voorbij zie komen bij anderen op Facebook of op het glasforum. Dus misschien gun ik me morgenochtend ff een paar uurtjes achter de brander, als de kittens toch slapen en dan laat ik ze in hun kamertje lekker rustig en veilig voor ze…
_
Beadmaking hasn't happend in quite some time now, and I must say I really really miss it! Specially when I see beautiful beads from others on Facebook or the Dutch glassforum. Maybe I can give myself a treat tomorrow morning and let the kittens sleep in the cat room, so they stay save and I can have my torch time…_
Ren je rot is weer even voorbij, ze liggen weer lekker te slapen in de hangmat, dus ik ga nog snel even wat chunks afmaken 🙂
Rush hour is over again, they are sleeping again, so I can go and finish a few more chunks again 🙂
XoXo,
Carolien