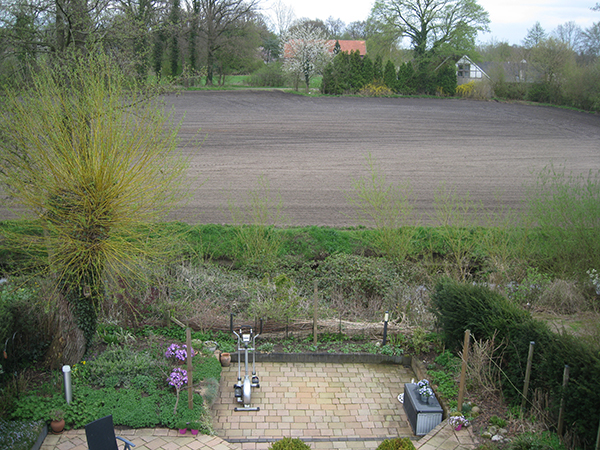 2 weken ineens… poeh dat zijn veel foto's!!! Er is veel gebeurd de afgelopen 2 weken, dus veel te showen en te vertellen. We gingen mee huizen kijken met de schoonouders (hierboven het uitzicht van het favoriete huis), de laatste Koninginnedag vierden we samen voor de tv, ik ging naar Orvelte (waar ik al eerder over blogde), Binx werd ziek (gelukkig gaat het al stukken beter, maar hij blijft klunzig en zijn evenwicht is nog niet wat het moet zijn), we werkten weer een stukje in de tuin, vierden manliefs verjaardag lekker saampjes, ik ging lekker shoppen, hield een Tupperware party en had een lekker culinair dagje… veel kijkplezier!
_
2 weeks at once… well that are a lot of photos!!! A lot has happened that past 2 weeks, so a lot to show and tell. We looked at houses with my inlaws (up here the view from the favorite house), the last Queensday we spend sitting in front of the tv, I went to Orvelte (I already blogged about that), Binx got ill (he's doing much better, but is still quite clumsy and his balance is still a bit off), we worked in our garden a big, celebrated DH's birthday with just the two of us, I went shopping, I had a Tupperware party and a day with culinary experiments… so have fun watching!_
Naar Orvelte ging ik met de trein, ik vind het heerlijk om in de trein te zitten. Lekker genieten van het uitzicht en het zonnetje op station Zwolle, lekker ouderwets weer met de stoptrein! Beetje haken in de trein. Op de terugweg ben ik dan toch altijd weer blij om terug in Twente te zijn en zeker nu de bomen zo mooi in bloei staan!
I went by train to Orvelte, I love sitting in a train. Enjoying the views and the sunshine at Zwolle, just like the old days per slow train! Crocheting in the train. But on the way back I'm always happy to be back in Twente and specially now with all the trees in bloom!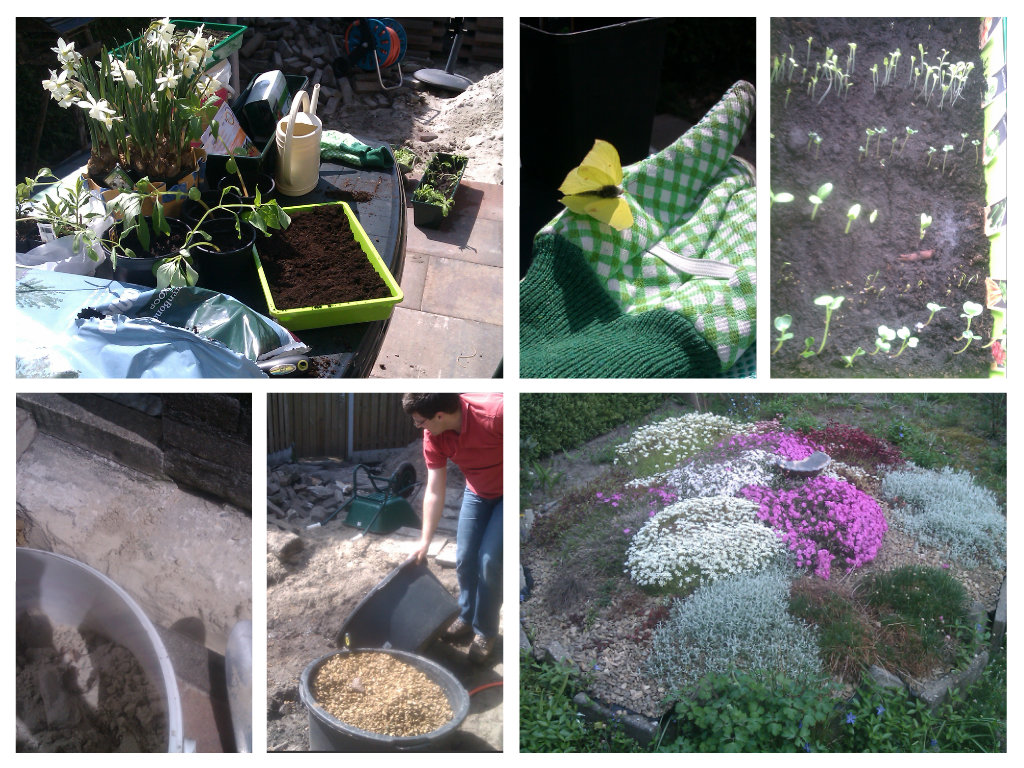 En met dat mooie weer gingen we lekker aan de slag in de tuin. Ik verpootte de plantjes die ik eerst zaaide en zaaide ook nieuwe groente en bloemen. Die komen echt al supersnel op! Ik kreeg nog leuk bezoek 🙂 En we schepten het gootje leeg van zand en vulden het met schoon grind, net als vroeger spelen met zand en water.
And with the nice weather we were busy in the garden. I changed the plants in bigger pots and sowed new veggies and flowers. They really are coming up quickly! I even got a visitor 🙂 And we scooped the sand out of the gutter to put in clean gravel, just like we were kids, playing with sand and water.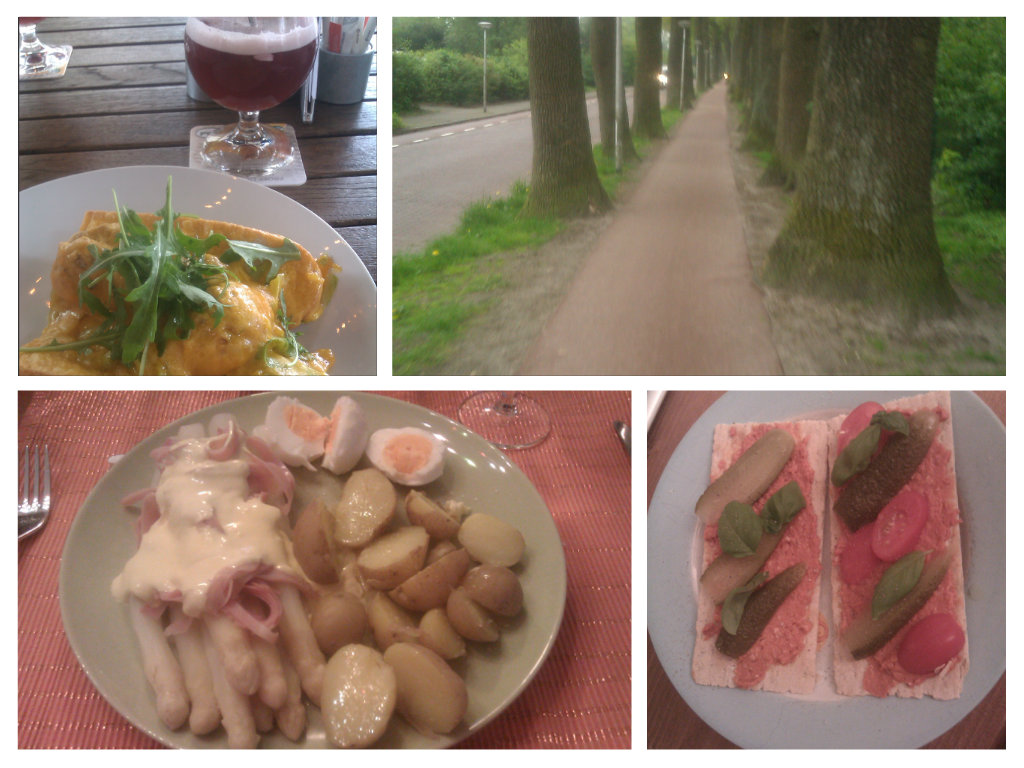 Op Robberts verjaardag nam ik hem mee uit lunchen, ik nam een lekkere tuna melt met ice tea op het terras 🙂 Ik had ook een hele fijne fietstocht terug via mijn favoriete route, de lange rij met bomen is geweldig! Op je verjaardag mag je kiezen wat je wilt eten, dat werden dus asperges. Jammie jammie! En als mager tussendoortje maakte ik mezelf afgelopen week crackers met filet american met augurk, tomaat en basilicum. Lekker versieren, maakt het eten nog smakelijker 🙂
At Robberts birthday I took him out for lunch, I had a very nice tuna melt with ice tea on the terrace 🙂 I also had a nice bike ride back home via my favorite route, the big row of trees is amazing! And on your birthday you get to pick dinner, so we had asparagus. Yum yum! And as lean snack I made crackers with steak tartare with pickles, tomato and basil. Decorate it a bit makes the food even better 🙂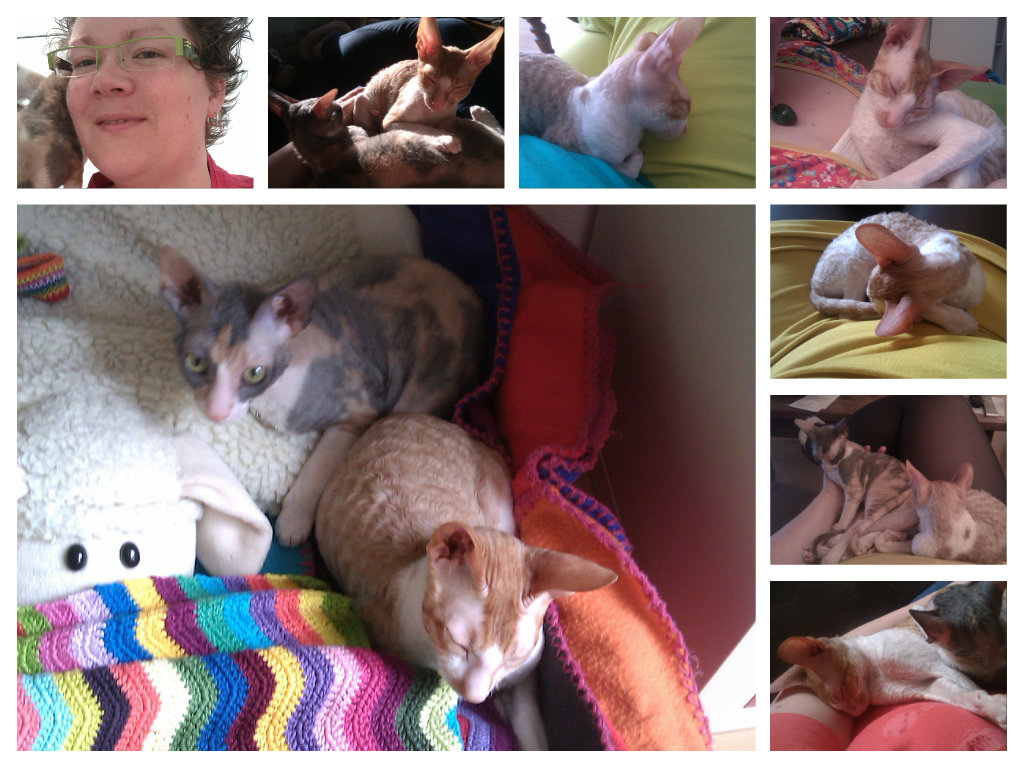 De poezies zijn nog steeds knuffelig 🙂 Ze groeien flink! Binx is inmiddels iets over de 2 kilo en Leia ruim 1850 gram!
The kitties are cuddly as ever 🙂 And they are growing! Binx is already a little over 2 kilo and Leia a bit more than 1850 grams!
Ik ging ook nog shoppen, aangezien mijn broeken te wijd worden. Maar helaas geen geluk, dus ik moet mijn naaimachine maar weer eens afstoffen. Ik heb wel deze top gekocht! En ik ging langs mij favoriete winkel, Dille & Kamille, ik hou daar echt van! Zo veel leuke spullen en ook als cadeautjes. En ik kwam langs een trouwerij met alleen maar oldtimers, ze zagen er echt gaaf uit!
_I went shopping, since my pants are too wide. But no luck on that part, so I will have to get out my sewing machine. I did however buy this top! I also went to my favorite store Dille & Kamille, I love it! So many nice things also for gifts. And I stumbled on a wedding party with oldtimers, they looked amazing!
_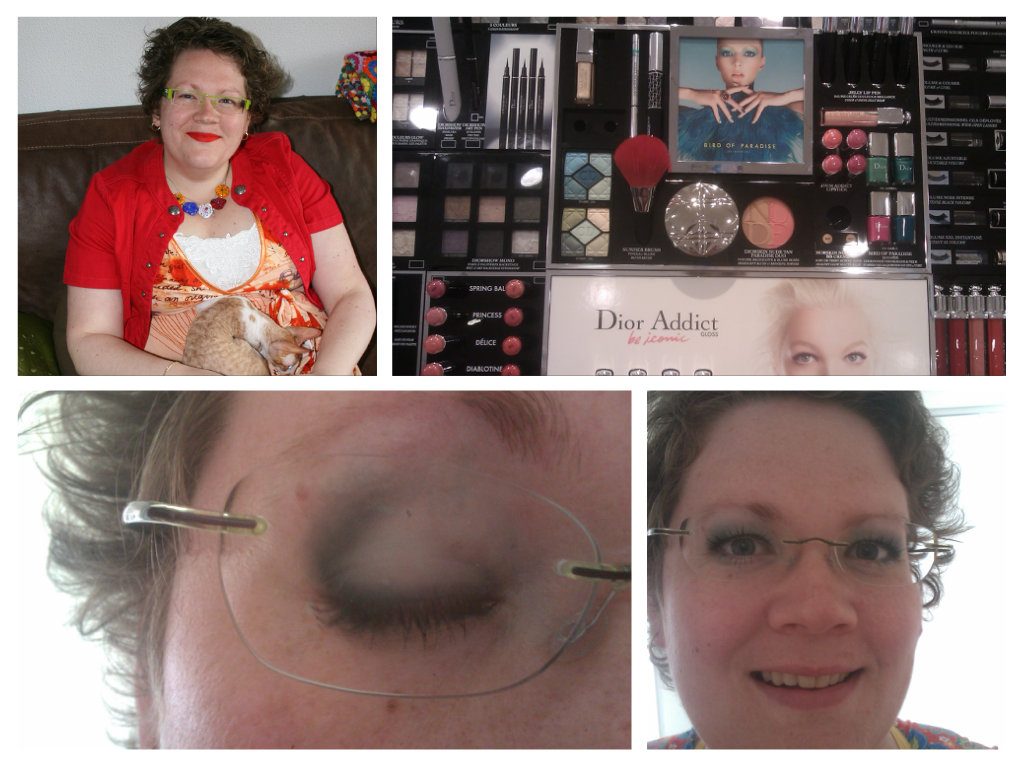 Ik kan niet zo goed tegen alle make-up, dus ik test het graag uit. Blauw is zo'n kleur die niet altijd goed gaat, ik had nu het geluk dat er een visagist van Dior was, zodat ik de kleur die ik op het oog had kon uitproberen. Het was voor mij wat te veel, maar wel fijn om te weten dat ik het niet hoef te kopen… traanogen en dus geen succes. En mijn nieuwe bril, ze hebben een andere vorm glazen in mijn oude montuur gezet 🙂 Ook mijn koninginnedaglook, met knalrode lippen en mijn eigen ketting "oranje boven". En matching rode kater 😉
I'm not good with makeup, so I like to test it. Blue is a colour that's not always a success, I was lucky there was a Dior makeup artist, so I could try the colour I was thinking to buy. It was a bit much, but quite nice to know that I don't have to buy it… my eyes teared up, so no success. And you can see my new glasses, they put a new shape in my old frame 🙂 Also my Queensday look, with bright red lipstick and my own necklace "oranje boven". And matching red cat 😉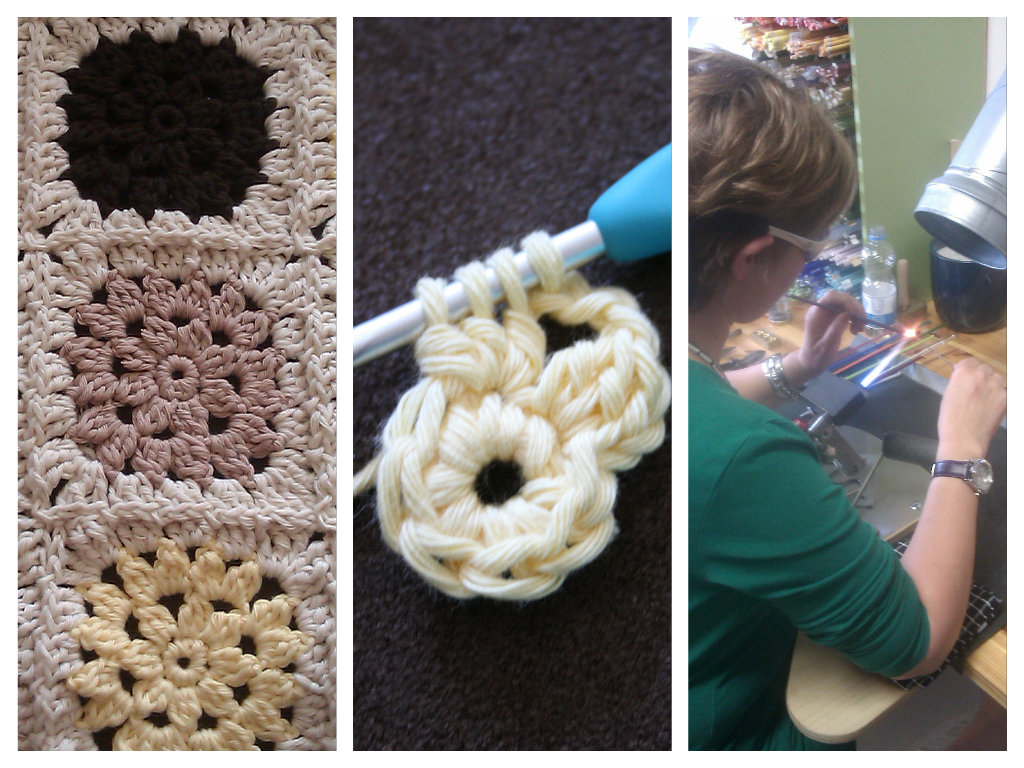 Ik was weinig creatief, maar wel even een preview van het kussen voor mijn moeder in bruin tinten en een begin van de tutorial voor de gebruikte granny square. Op kraalgebied kwam mijn cursiste lekker vrijbranden en zelf maakte ik ook een paar kraaltjes, maar niet noemenswaardig 😡
I was hardly creative, but here a preview of my mothers new cushion in shades of brown and the start of the tutorial for the granny square I used. As for lampworking my student came by to torch a bit for herself and I made a few beads too, but they are not worth mentioning 😡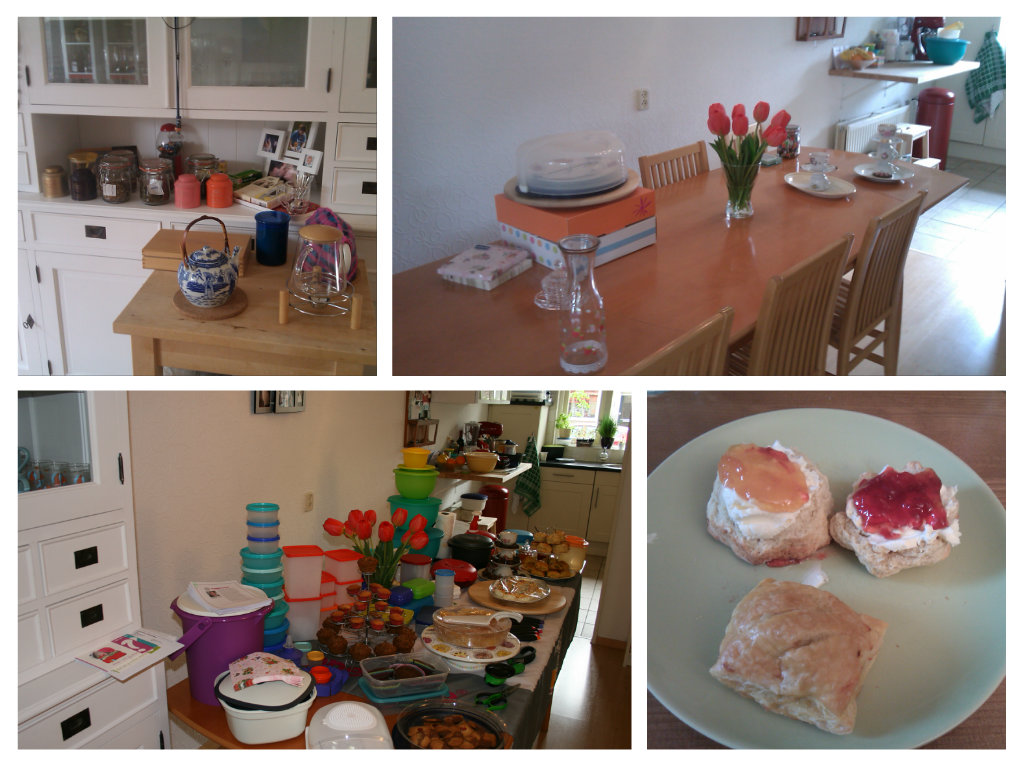 Gisteren hield ik mijn eerste Tupperware party, onwijs gezellig en lekker! Het was een kookstudio met als thema High Tea. De tafel stond flink vol en ik had flink wat thee uit de kast gehaald 🙂 Ik kocht leuke dingetjes en kijk ernaaruit om ermee te kunnen werken. Ik ben echt dol op Tupperware! Deze week schrijf ik nog een blog over de party, met meer foto's!
Yesterday I gave my first Tupperware party, it was really great! It was a cooking studio in High Tea theme. The table was quit full and I took out a lot of teas to match the theme 🙂 I bought some nice things and I'm looking forward to use them. I really love Tupperware! This week I'll write a blog only about the party with more photos!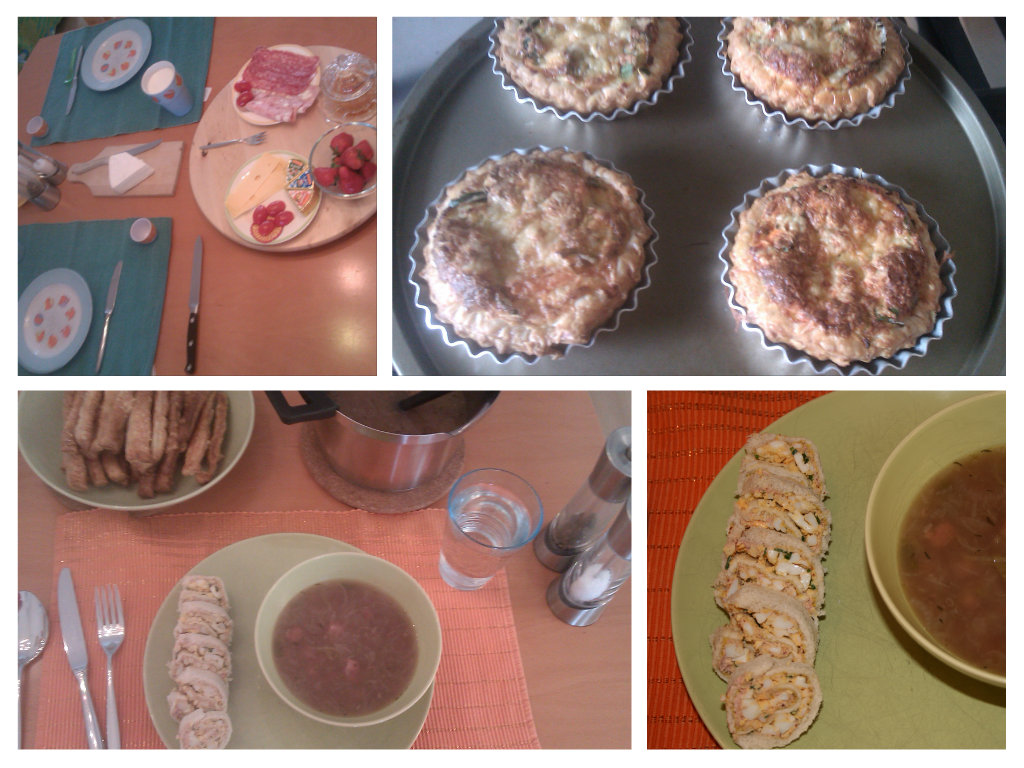 In de keuken was ik creatiever, vooral vandaag. Lekker luxe ontbijtje, voor de lunch maakte ik mini quiches, waarvan de ingrediënten over waren van de Tupperware party van gisteren. En vanavond maakte ik uiensoep met daarbij kaasstengels en patérolletjes, wederom met ingrediënten van gisteren 🙂
I was a little bit more creative in the kitchen, specially today. A luxurious breakfast, for lunch I made mini quiches of leftover ingredients of yesterday's Tupperware party. And tonight I made an onion soup with cheese sticks and pate roles, also with yesterday's leftovers 🙂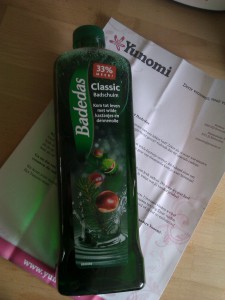 Oh en vrijdag kwam er een cadeautje van yunomi… ik kreeg tranen in mijn ogen, maar niet op een slechte manier, "gewoon" emomomentje… het was mijn vaders favoriete badschuim, dus aleen de geur bracht vele herinneringen met zich mee. Hij gebruikte het altijd… Helaas hebben we geen bad, maar ik ruik gewoon af en toe aan de fles 😡
Oh and Friday I got a gift from yunomi… it made me tear up too, but not in the bad way, just emotional tears… it was my dads favorite bath foam, so only the smell is enough to take me back on memory lane. He always used it… Unfortunately we don't have a bath tub, but I will just smell it from time to time 😡
Dat waren 2 weken in een notendop, toch wel weer een flinke blogpost 🙂
That were 2 weeks in a nutshell, quite a blogpost again 🙂
XoXo,
Carolien