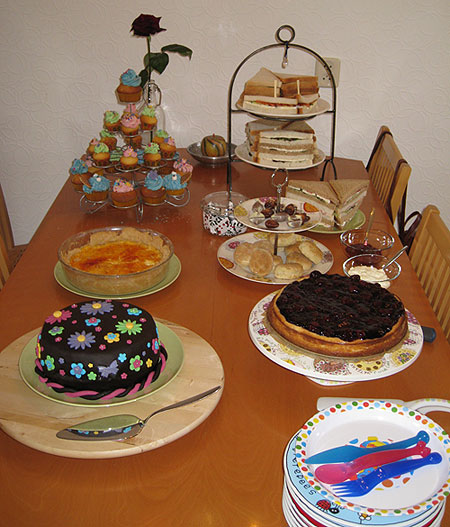 Gisteren was mijn verjaardag, de grote 3… een mooi moment om me eens flink uit te leven in de keuken 🙂 Ik ben dol op bakken, maar er moet natuurlijk wel een goede reden zijn, want anders werkt het zo averechts met het proberen op de kilo'tjes te letten…
Op zondag heb ik een high tea gehouden voor enkele vrienden en familie en gisterochtend kwam er een handjevol visite, dus ik heb mijn verjaardag lekker rustig gevierd. Er komt nog wel een groot feest, maar daar zijn we nu nog niet aan toe.
Voor de high tea hebben manlief en ik zo'n 3 dagen in de keuken gestaan, alles volgens een strakke planning. Ik heb me helemaal uitgeleefd op de taarten en muffins, daarbij nog scones met clotted cream en jam, sandwiches en schoonmama nam een hartige kaastaart. Nog een paar bonbons erbij om het af te maken en de high tea tafel is helemaal klaar 🙂
Yesterday was my birthday, the big 3… a great moment to let myself go in the kitchen 🙂 I love baking things, but I have to have a good reason, because else it's so counterproductive with my wish to loose weight…
Sunday I had a high tea with some friends and family and yesterday morning there were a few paying a visit, so a very quiet way to celebrate my birthday. There will be a big party, but we're not ready to do that.
DH and I spent about 3 days in the kitchen for the high tea, all with a very strict schedule. I've really let myself go on the cakes and cupcakes, with that some scones with clotted cream and jam, sandwiches and my mother in law made a great savory cheesecake. Adding some chocolates to it to finish it off and the high tea table is all ready 🙂
Mijn eerste thuisgemaakte aangeklede taart/My first homemade cake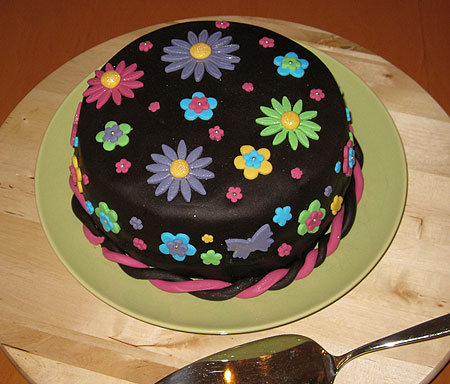 De taart van binnen, chocolade taart, gevuld met dulce de leche en frambozenjam/The inside of the cake, chocolate cake, with dulce de leche and raspberry jam.
__
Een close-up van mijn cupcaketoren met de koekiemonster cupcakes en met botercreme versierde cupcakes/A closer look to my cupcake tower with cookie monster cupcakes and cupcakes with butter creme.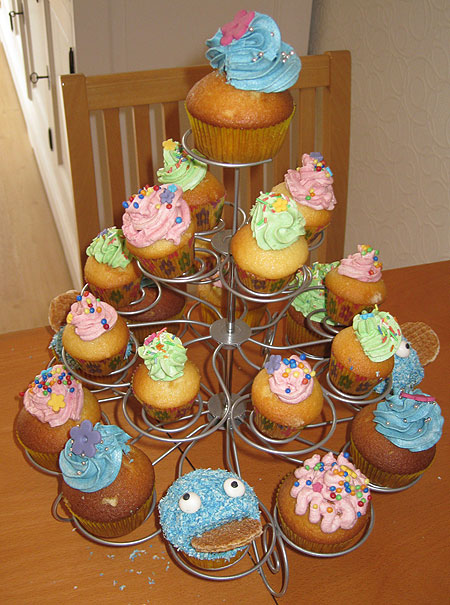 Het was superleuk om dit samen met manlief te maken en met mijn verjaardagskado gaat het nog veel leuker worden, vooral gemakkelijker. Ik kreeg namelijk een superfijne nieuwe keukenmachine. De komende tijd zal ik dus wel vaker in de keuken te vinden zijn, er zijn zelfs al een paar "bestellingen" geplaatst 😉
It was great fun to be in the kitchen together with DH and with my birthday present it will get a lot more fun, it certainly will get easier. I got a very nice new kitchen helper. So I guess I'll be in the kitchen a lot more in the next weeks, I even got a few "orders" already 😉
__