Wow, wat een boel reactie op mijn Bead soup! Wat leuk is dat zeg! Ik heb zelf ook flink rondgehopt, niet overal een reactie kunnen achterlaten, want we waren erg druk. Afgelopen week zijn we namelijk "oom" en "tante" geworden van Zoë 🙂
Wow, so many comments on my Bead soup! How nice! I've been hopping around too, but wasn't able to leave a comment everywhere, since we were very busy. Last week we've become "uncle" and "aunt" of little Zoë 🙂
Eindelijk kan ik dus nu de deken showen die ik een paar weken geleden al afmaakte. Via Twitter had ik af en toe wel updates terwijl ik aan het werk was nog, maar geen mooie tadah foto's, want het moest natuurlijk wel een beetje een verrassing blijven 🙂 Daarom nu hier vanaf het begin van de deken tot het tadah moment, heel veel foto's dit keer dus 🙂
Finally I can show the baby blanket I finished a few weeks ago. On Twitter I did show some updates while working, but I haven't done any pretty tadah photo's, because it had to stay a surprice ofcourse 🙂 That's why I'm showing the blanket from the start now until the big tadah moment, so lot's of photo's this time 🙂
Heel veel nieuwe kleurtjes toegevoegd aan de voorraad, I had niet meer genoeg kleuren om er een mooie kleurrijke deken van te maken, ik viel steeds in herhaling en dat werd te saai. Dus ik heb besloten dat ik de voorraad niet op ging maken dit keer, maar nieuwe kleuren toe te voegen en nog genoeg over te hebben voor nog een dekentje voor de toekomst.
Lot's of nice new colours added to my stash, I didn't have enough colours left to make a nice and colourful blanket, I kept repeating the same colours and that got boring. So instead of finishing the stash as I wanted, I decided to add new and have enough for another blanket in the future.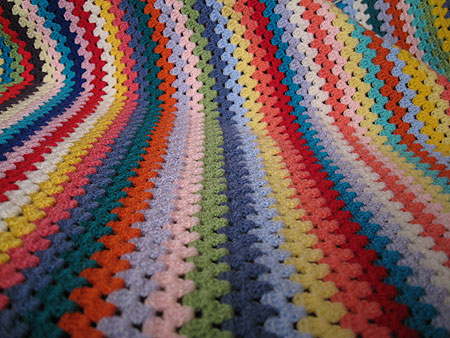 Al die mooie kleuren, streepje voor streepje een mooie, zachte deken aan het worden…
All those nice colours stripe for stripe advancing to a wonderful soft and cosy blanket…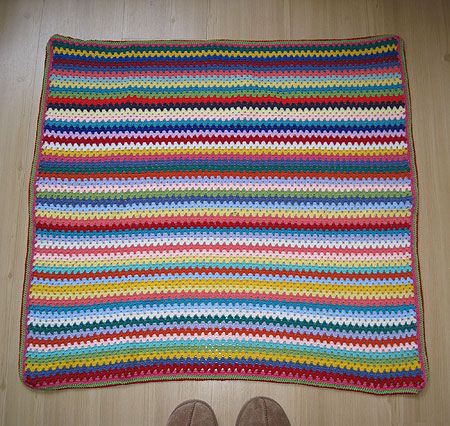 Tot de deken de juiste grootte heeft en een mooi randje eromheen voor de finishing touch 🙂
Until the blanket has just the right size and then a pretty border around it for the finishing touch 🙂
__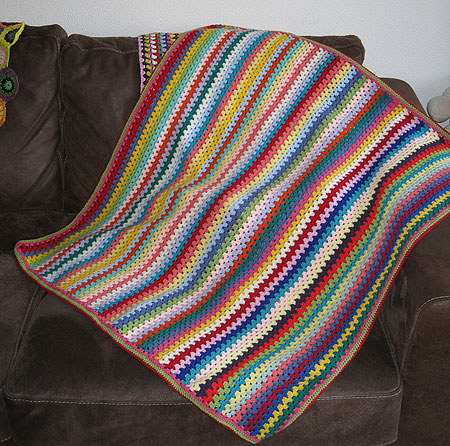 Nog even over  de bank gedrapeerd voordat hij ingepakt wordt en afgeleverd.
Just draping it over my own couch before it's being wrapped and delivered.
__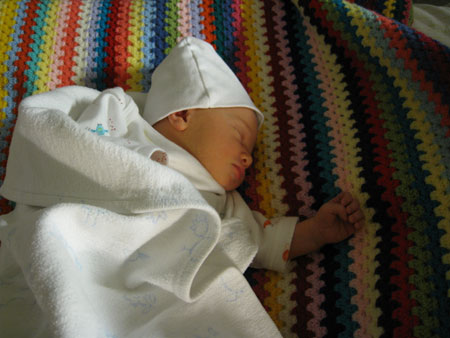 En dan mag de deken natuurlijk gelijk getest worden! Het mooie meisje lekker slapend op dat mooie dekentje..
And of course the blanket gets to be tested immediately! The pretty little girl nicely sleeping on the beautiful blanket… making me a very proud aunt 🙂