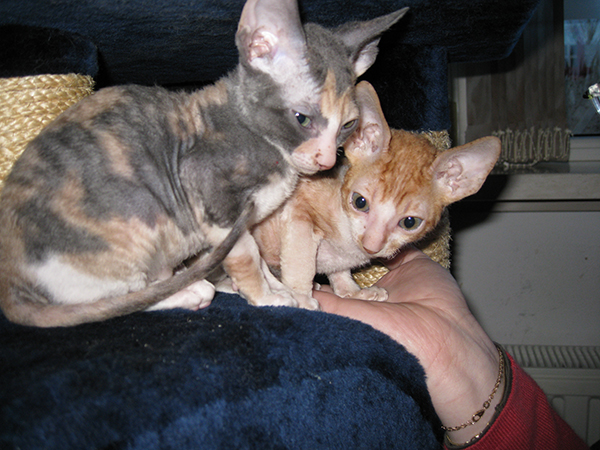 Gisteren zijn we weer op bezoek geweest bij Cattery Nnua voor onze kittens. Oh wat was het fijn om onze liefies weer te zien, mee te spelen en te knuffelen! En wat was het moeilijk om ze achter te laten, we zaten echt met een glimlach én een steen in onze buik in de auto… Nog maar 3 weken, dus het grote aftellen is wel begonnen.
Binx lag weer lekker op mijn borst te slapen, de kleine knuffelbeer! Leia was lekker druk dit keer en vond het veel interessanter om te spelen en nog wat bij mama en tante te drinken. Op een gegeven moment leek het net een rijtje varkentjes 🙂
_Yesterday we went to visit Cattery Nnua to see our kittens. Oh it was so great to see our lovelies again, to play with them and to hug them! It was so difficult to leave them behind, we got in the car with a big smile, but also a strange feeling in our stomaches… Only 3 more weeks, so the countdown has started.
Binx was sleeping on my chest again, the big huggabear! Leia was pretty busy this time and was way more interested in playing and drinking from mom and auntie. It almost looked like a row of piglets 🙂_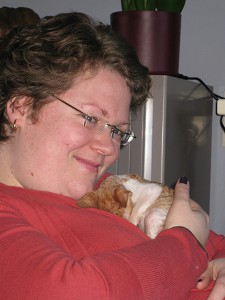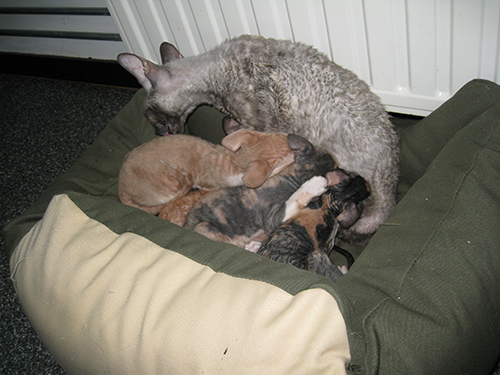 Inmiddels hebben we al een grote krabpaal in de woonkamer staan en vandaag is ook de tweede krabpaal in elkaar gezet. Een kleinere voor in hun kamertje. Onze logeerkamer is opgeofferd voor de kittens, zodat ze hun eigen plekje in huis hebben om 's nachts te slapen en veilig te zitten als ze daar behoefte aan hebben, bijv. bij een drukke verjaardag.
Daarvoor moet er nog wel flink geklust worden, plinten aanleggen, boekenkast ombouwen zodat die in een iets kleinere kamer past, de opzetkast van de kledingkast wordt omgebouwd tot een bank met onderin opslagruimte. Kortom wij hoeven ons die drie weken niet te vervelen 🙂
In the meanwhile we've assembled a bit scratch post for our living room and today we also assembled the second scratchpost. A smaller one for in their room. Our guest room has been sacrificed for the kittens, so they have their own place in our home, to sleep at night and to feel safe if they want to, for example at busy birthday parties. We do have to do a lot of work before they can come, like placing plinths, rebuilding our big book shelves so it will fit in a smaller space, remodeling the additional cupboard from the wardrobe to a couch with stash room in it. As you can see we won't get bored those three weeks 🙂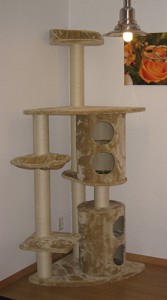 Naast kittens haak ik momenteel veel, aangezien de rust snel voorbij zal zijn daarvoor. Ik denk dat mijn bolletjes wol niet meer zo veilig naast me liggen als die twee kleintjes er eindelijk zijn. Ik heb een blooming flower cushion van Attic24 gemaakt voor mijn moeder haar verjaardag in maart. Ze heeft hem al gezien en hij is nog niet helemaal klaar, hij moet nog in elkaar met een vulling, dus ik kan hem hier prima even laten zien. Het is gemaakt van Drops Muskat, wat een heerlijk en prachtig garen is dat toch!
Besides the kittens I like to crochet a lot, because the silent moments will be over soon. I guess my wool won't be safe anymore after the kitties finally arrive. I've made a blooming flower cushion from Attic24 for my mother's birthday in March. She already saw it and it's not yet finished, it only needs assembling and stuffing, so I can show it here now already. It's made of Drops Muskat, what a great yarn that is!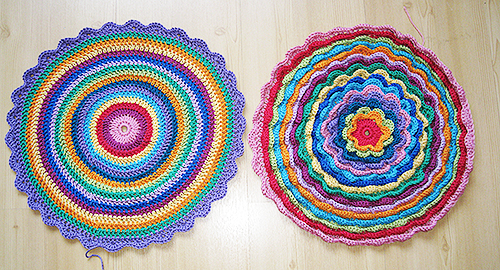 En voor een vriendin maak ik een regenboog ajour ribbeldekentje, als cadeautje voor iemand anders. Lekker even een nieuw patroon uitproberen en nieuwe katoen, Drops cotton light, een combinatie van 50% katoen en 50% acryl. Prima voor een babydekentje, al splijt het wel iets te graag naar mijn idee.
And for a friend I'm making a rainbow ajour ripple blanket, as a gift for someone else. Just trying out a new pattern for a change and new cotton, Drops cotton light, a combination of 50% cotton and 50% acrylic. Fine for a baby blanket, even though it's not the nicest I've tried, it does like to split a bit more than I like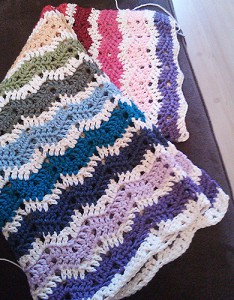 Morgen is een spannende dag, ik moet een kleine operatie ondergaan aan mijn gezicht. Een grote moedervlek, die steeds ontsteekt, moet worden weggehaald. Ik vind het doodeng, ik hou niet van naalden en ook niet van iets in mijn gezicht. Maar het is wel beter. Dus we doen het maar gewoon en hopen dat de geschiedenis van anderhalf jaar geleden zich niet herhaalt… *duimduimduim*
Tomorrow is a tense day, I have to undergo a small surgery on my face. A big birthmark, that has to be removed because of being inflammated. I'm very scared, I don't like needles at all, and also nothing in my face. But it is for the better. So we just have to do it and hope history of a year and a half ago won't repeat itself… *crossing my fingers*
XoXo,
Carolien