Allereerst een dankjewel voor de lieve reacties op het vorige bericht, de moedervlek is weg en de hechtingen mogen er volgende week dinsdag uit. Het is me ergens wel meegevallen, al is de stress eromheen natuurlijk wel heel erg groot.
We proberen gewoon zoveel mogelijk positief te blijven, maar dat zo'n uitslag zo lang moet duren… 2 weken! Ik weet dat ik van de foto's ben, maar zal jullie de hechtingen besparen 🙂
First of all thank you for the nice comments on the last post, the birthmark is gone and the stitches are to come out next Tuesday. I guess it went better than expected, but my stress level is still very high. We're trying to keep a positive state of mind, but the results take so long… 2 weeks! I know I'm a picture kinda girl, but I'll keep out a picture of the stitches 🙂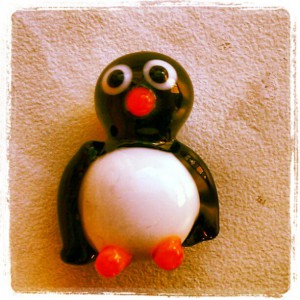 Omdat het op de Facebook pagina van Kralalien al heel gezellig is, maar meer likes natuurlijk altijd leuk zijn, heb ik besloten een verloting te doen, oftewel een give away! Deze lieve kleine pinguin kraal ga ik weggeven als de teller op 200 likes staat. Dus like de pagina en share de foto daar, des te eerder kan ik de kraal weggeven en misschien ook wel weer een nieuwe actie bedenken 🙂
_Because it's already nice and busy on Kralaliens Facebook page, more likes are always welcome. So I decided to start a give away. This little penguin bead is what I will give away, when we hit 200 likes. So like the page and share the picture over there, the sooner I can give the bead away and maybe think of a nice new idea for my likers 🙂_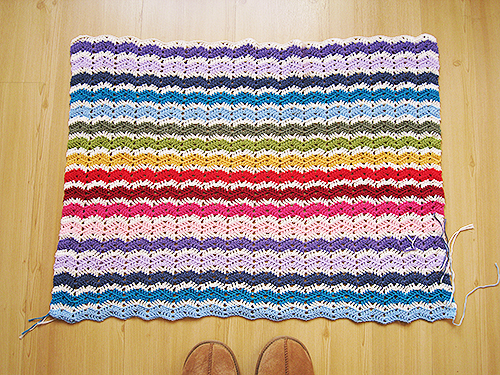 Verder haak ik lekker door, omdat ik toch merk hoe vermoeiend stress is en ik deze week bewust al wat vrij gehouden had. De ripple schiet lekker op zoals je kunt zien! Hopelijk kan ik hem zelfs nog afmaken voor de kittens komen 🙂
Further I really like my crochet, because I'm pretty tired because of all the stress, and because I expected that I kept my week quite empty. So the ripple is going well as you can see! I hope I can finish it before the kittens will come 🙂
Fijn weekend!
Have a nice weekend!
XoXo,
Carolien