De regenboog ajour ripple deken is klaar! Dus tijd voor een tadah momentje, een blog vol foto's dus dit keer 🙂 Het patroon komt van één van mijn favoriete blogs: http://hakenenmeer.blogspot.nl/2011/06/gehaakte-deken-ajour-ribble.html En ik heb ook al een aantal mensen kunnen inspireren, want ik zag al meer ajour ripples langskomen op Twitter 🙂
_The rainbow ajour ripple blanket is finished! So time for a tadah moment, so a blog full of photos this time 🙂 The pattern is from one of my favorite blogs: http://hakenenmeer.blogspot.nl/2011/06/gehaakte-deken-ajour-ribble.html And I've also inspired some people, since I already saw a few ajour ripples on Twitter 🙂_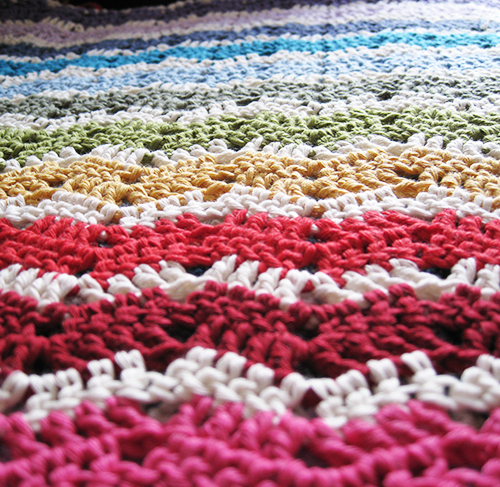 Eerst de close-ups, ripples en regenboogkleuren, wat een genot om te zien. Meestal haak ik lukraak kleuren, maar deze is op volgorde en dat heeft toch ook wel iets, mijn ocd is er erg blij mee 😉
_
First the close-ups, ripples and rainbow colours, what a pleasure to look at. Mostly I just crochet random colours, but this one is nicely in order, it's also very nice, and my ocd was very happy with it 😉_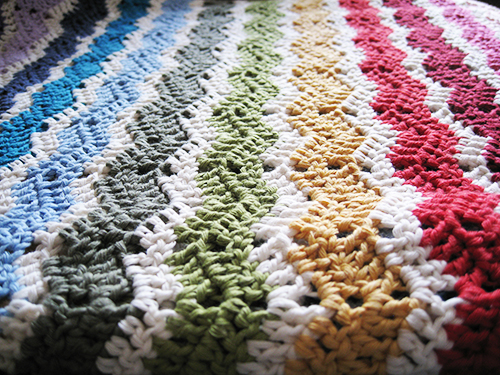 En zo ziet íe eruit over de bank.
And this is what it looks live over the couch.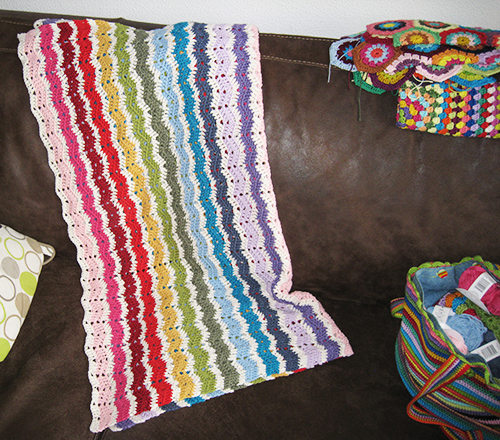 En nu in al z'n ripple mooiheid, uitgespreid aan mijn voeten (en ja met een jurkje krijg je dus net iets meer dan alleen de lekker warme pantoffels in beeld 😉 ).
And now in all it's ripply glory, spreaded out on my feet (and yes, with a dress you see a little bit more than just my nice and warm slippers 😉 ).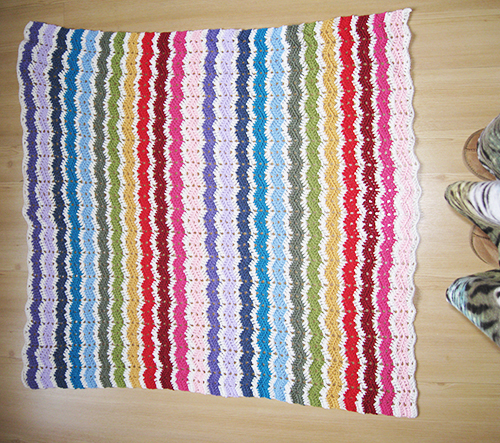 En een kleine update over onze kittens. Het moment dat ze thuis komen komt steeds dichterbij! Het is wel moeilijk hoor het wachten, maar gelukkig stuurt de cattery af en toe wat foto's, waaronder deze ontzettend lieve van Leia en Binx samen! Nog 1 a 2 weken, want ze moeten naast 13 weken ook goed op gewicht zijn. Dus het blijft nog even spannend!
And a little kitten update. The homecoming is coming closer and closer! It's difficult to wait, but fortunately the cattery send some photos, among them this ubercute one of Leia and Binx together! Only 1 or 2 weeks, since they have to be 13 weeks but also have the right weight. So it's still very exciting!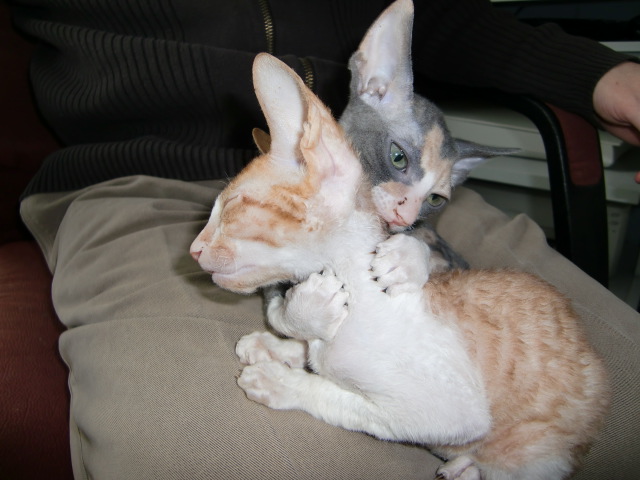 En tot slot nog even iets om naar uit te kijken! Morgen maak ik de winnaar bekend van de pinguin kraal give-away! Mijn facebook pagina kreeg vanavond de 150e like en aangezien ik in een goede bui ben, vond ik dat al reden om te vieren. En als het 200 likes zijn, doe ik gewoon een nieuwe give-away 🙂
_
And to end with something to look forward to, tomorrow I'll announce the winner of the penguin bead give-away! My facebook page got it's 150th like and since I'm in a good mood, I thought that was a reason to celebrate. And when we hit 200 likes, we'll just do another give-away 🙂_
XoXo,
Carolien