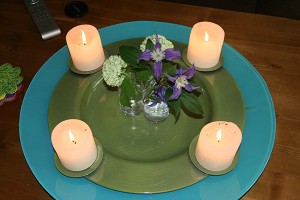 Elke keer verbaas ik mij weer als het zondagavond is, dat er al weer een week voorbij is! Een week vol zorgen om onze Binx, maar ook een week met mooie en positieve dingen gelukkig 🙂
Everytime on Sunday evening it amazes me that the week is already over! A week with lot's of worrying about Binx, but luckily also nice and positive things 🙂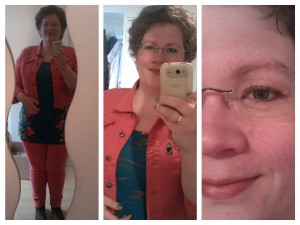 We begonnen maandag met een zonnige outfit, als het weer niet meewerkt, dan maar het zonnetje in huis met aqua en koraal! Zoals al eerder gezegd, wil ik vaker dit soort foto's showen, dus ik hoop dat jullie het leuk vinden!
I started Monday with a sunny outfit, although the weather wasn't cooperating, I just wanted to look sunny with aqua and coral! As said before, I want to show these kind of photos more often, so I hope you like it!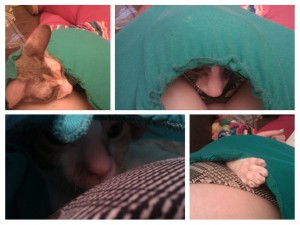 Dinsdagavond vonden de kittens het blijkbaar koud… ze kropen achter elkaar in mijn t-shirt om daar lekker te slapen. Echt zo schattig! En lekker warm 😉
Tuesday evening the kittens apparantly were cold… they got into my t-shirt, after each other, just to sleep there. So adorable! And nice and warm 😉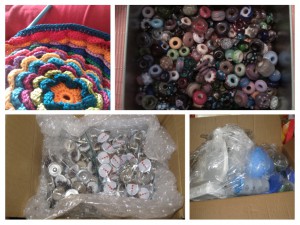 Niet heel veel creatiefs, de chunks voor Ameland waren klaar en zie je hierboven in een doosje. De voorkant van mijn blooming flower cushion is al bijna klaar en een grote bak met Krala's (Trollbeads-/Pandora-style kralen) moet worden uitgesorteerd. En vrijdag kreeg ik de spullen van de Tupperwareparty binnen! Een bijzonder omweg, via Utrecht, maar het is er. En dan denk je wat is daar creatief aan, nou het is best even creatief puzzelen om de keukenkastjes te herinrichten 😉
Not a lot of creativity, the chunks for Ameland were ready and you can see them all packed up in their box. The front of my blooming flower cushion is almost ready and a big bowl of Krala's (Trollbeads-/Pandora-style beads) have to be sorted. On Friday I got the things from the Tupperwareparty! A special detour, through Utrecht, but it's here. And you must think that that is nothing creative, well it is quite a creative puzzle to redesign the kitchen cabinets 😉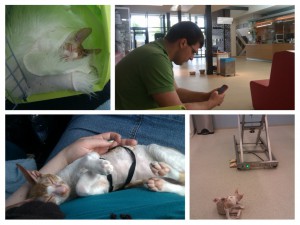 Dinsdag belden we de dierenarts dat er nog geen verbetering was met Binx en z'n scheve koppie. Woensdag haalden we de verwijzing op om naar de universiteitskliniek in Utrecht te gaan. Ik belde gelijk voor een afspraak en vrijdag konden we terecht. 7 co-assistenten stonden ons op te wachten in deze mooie kliniek. En na een flinke hoeveelheid vragen en een kort onderzoek voor hartslag, lymfeklieren en temperatuur werd er even overlegd met de arts. Deze kwam toen ook mee en ging Binx zijn oren bekijken. Hij wilde weer heel goed meewerken, not 😉 Dus werd er nog een arts bijgehaald, ook zij zag erg weinig. Er werd ons aangeraden om nog 3 weken door te gaan met de antibiotica. Een binnen- en middenoorontsteking is een naar iets en duurt lang. De scheefstand van het hoofd en verminderd evenwicht kunnen lang duren voordat het weer goed komt als het al goed komt… Mocht het een poliep zijn, dan moet de poliep al door het trommelvlies komen willen ze opereren. En om goed in het oor te kijken moet meneer onder narcose, ook voor een ct-scan. Dit hebben we dus nu nog minimaal 3 weken uitgesteld. Binx is gewoon actief, rent rond, eet goed, slaapt misschien wel iets meer, maar komt totaal niet ziek over. Dus vandaar dit besluit, waar wij ons zeker wel in konden vinden. En de autorit, Binx was echt super in de auto! Helemaal alleen en hij heeft beide ritten van 1,5 uur lekker liggen slapen!
_
Tuesday we called the vet that there was no improvement with Binx's tilted head. Wednesday we got the papers to go to the university clinic in Utrecht. I called that morning to make an appointment and we could go there on Friday already. 7 co-assistants were waiting for us in this beautiful clinic. And after quite a lot of questions and a short exam for his heart rate, lymph nodes and temperature they went to consult with the doctor. She came with them to look into Binx's ears. He really wanted to cooperate this time, not 😉 So another doctor came and she also didn't see much. They recommended to go on with the antibiotics for 3 more weeks. A inner- and middle ear infection is a nasty bugger and takes a long time to heal. His tilted head and being off balance can take very long to get better and maybe it will never get back to normal… And if it is a polyp, then the polyp must be big and through the eardrum if they operate. And to get a good look into his ear, he has to get under anesthetic, and for the ct-scan also. This is postponed for at least 3 weeks. Binx is active, runs around, eats well, sleeps a bit more maybe, but doesn't look ill. So that's the reason for this outcome, with which we are okay. And for the long drive, Binx was doing great! All alone and both rides of 1,5 hour he slept!_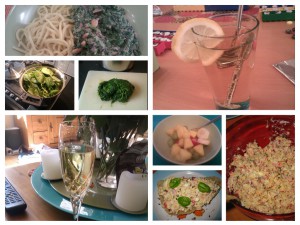 Het eten deze week, weinig hoogstandjes, zelfs Chinees en patat en soep met brood is ook prima avondeten… Kortom door alle drukte met Binx, totaal geen puf meer om te koken. Maar wat ik wel maakte, van een gigapan spinazie die binnen een paar minuten geslonken is tot minimale hoeveelheid voor 2, is een lekkere spinaziepasta. En na het harde werken met de chunks, maakte ik een lekkere cocktail! Toen wij vrijdag in Utrecht waren, waren mijn schoonouders bij ons thuis om op Leia te passen. Ze hadden het zo geregeld dat ze 's middags de voorlopige koopakte konden tekenen voor hun nieuwe huis, daar moest natuurlijk op gedronken worden toen we weer thuis waren! En aangezien de Tupperware binnen was, maakte ik zaterdag lekker een surimisalade voor bij de lunch naar het recept van de kookstudio! Ideaal die quickchef!
The food this week, well not much special, we even got Chinese and fries, and soup with some bread is also fine for dinner… All of the stress with Binx made that we didn't have any energy left to spend in the kitchen. But what I did make, from my ginormous pan full of spinach that was not more than a small meal for 2 after a few minutes, is a nice spinach pasta. And after working very hard on the chunks, I made myself a nice cocktail! As we were in Utrecht Friday, my inlaws were in our home baby sitting Leia. They arranged that in the afternoon they could sign the papers for their new home, so that needed a drink of course as we got home! And since the Tupperware came in, I made a nice surimi salad on Saturday for lunch, with the recipe from the party! Really great that quickchef!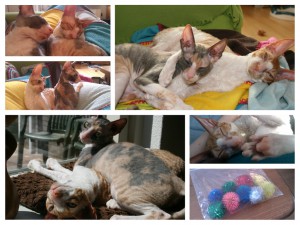 En dan eindigen we nog even met wat lekkere schattige katten knuffel foto's 🙂 Oh en als je ooit van die glitter pompon balletjes vindt, ongeveer 1 inch groot, dan houden wij ons aanbevolen, ze verdwijnen hier nl. bijna sneller dan dan wij ze kunnen vinden 😉
And we end today with a lot of cuddly kitten photos 🙂 Oh and if anyone ever finds these glitter pompon balls, approx. 1 inch big, then please let us know, since they get lost quicker than we can find them again 😉
XoXo,
Carolien