It's been very quiet here lately, let's just say live gives you lemons sometimes and you have to come up with the recipe for lemonade first to be able to make some… I also switched to English since I got to know a whole lot of international people in the past couple of months!
In the past year I've got myself addicted to a very nice new hobby which I never imagined I would ever be able to do, knitting socks! I was never able to knit socks so my grandmother and mother made them for me, but they never fit like I want them to. They were very loose and I like snug fitted socks so my feet stay warm instead of get cold.
Then I met a nice new friend, Charlotte, who knits socks like it's really easy and she told me to throw away the dpn's and use a circular needle instead, and start my socks toe up, two at a time. It still amazes my grandmother that I can knit that way, she really can't wrap her head around it how it works! And I just love it! Since I started exactly 1 year ago I learned a lot! And I still have to learn so much more, but I so love this!
If you're on Ravelry, here you can find my overview on Ravelry: http://www.ravelry.com/projects/kralalien?set=socks&view=thumbnail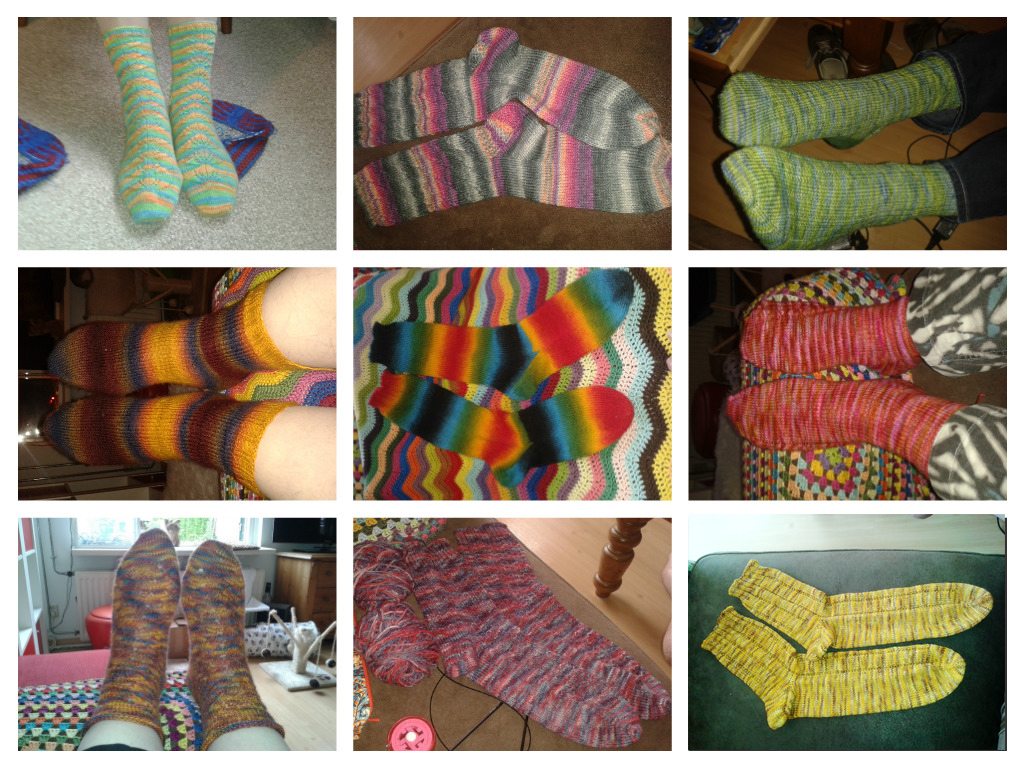 After my first pair of baby socks to try all the different parts of the socks quickly, I started with the green socks with lace pattern. Too small for me, but my grandmother fits them with a little effort when putting them on. Lesson learned, don't knit too small and that heel, no, just no, not for my big feet. Next pair, was a gift for a friend. Again pretty snug fit, but really fit well when put on and are really warm and nice. Pair 3 for my husband, lovely fit, pattern works! Thanks again Charlotte for suggesting the right pattern this time 🙂
Pair number 4, for me! Still a bit tight, and got a little bit impatient with the leg and ribbing… Pair 5 for a friend, fit like a charm and she loves them! Pair 6, for me again, the softest yarn I've ever had, love the Hedgehog fibre, and the little cable pattern, who knew cables were so easy! Pair 7, again for me, a 6ply instead of 4, with a nice fake cable pattern. Fit great but also shorter than they should be because of wanting to finish…
Pair 8 I gifted to a friend again, for her birthday, a size 40 but they fit me too, with my size 42⁄43… so definitly not too tight this time! She loves them 😀 Very unique socks, handdyed yarn, my very first skein!
And now pair 9… this time I really put in the effort to make the leg part longer! And I pushed myself for the ribbing, another row, another come one! Handdyed yarn by myself.
And a sockyarn blanket also is in the making now. I didn't like it at first, but now I really do. The first square is finished. And with sockblanket madness week on Instagram I plan to finally be able to add some more this week!
I just wish I could knit faster, hopefully practice makes perfect with that.
XoXo,
Carolien