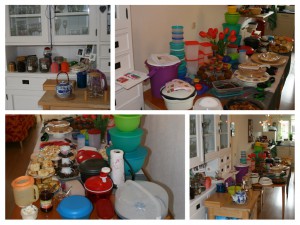 Zoals ik al schreef had ik vorige week een Tupperware party. Wel een nieuwe stijl party, een kookstudio met als thema High tea, waarbij we allemaal lekkers maakten om de Tupperware producten ook gelijk zelf uit te kunnen testen! Hierboven zie je hoe alles mooi uitgestald werd en mijn toch best grote tafel bijna nog te klein was… Gelukkig kon de thee apart op een roltafeltje en ook nog een deel op de keukenplank
As I wrote last week I gave a Tupperware party. A new style party, with as theme High tea, where you could use the Tupperware products to try them out first! Up here a photo of how everything was laid out nicely and even though I have quite a big table, it was almost to small… Fortunately I could put the tea on a different table with wheels and a part in the kitchen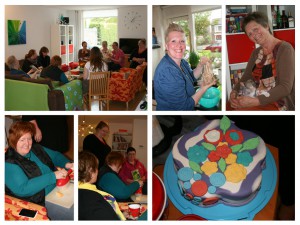 En hier zie je de gasten, druk bezig met het kijken in de catalogus, lekker aan het kokkerellen en toekijken of zoals mijn schoonmoeder, geclaimd door 2 slapende kittens
En uiteraard het pronkstuk van de tafel, de prachtige taart van Lisette met "gehaakte" decoraties! En ja we hebben hem aangesneden en ja, hij was erg lekker!!!
And here you can see the guests, busy looking for things in the catalogue and busy using the Tupperware and watching of like my mother in law, claimed by 2 sleeping cats
And of course the show piece of the table, the beautiful cake by Lisette with "crocheted" decorations! And yes we did cut it and yes, it tasted great!!!
Ik heb echt enorm genoten en het was heel gezellig! Ik vond het zeer voor herhaling vatbaar, hopelijk vond iedereen dat. Dus dames, bij deze nogmaals heel erg bedankt!!!
I really enjoyed it and it was great! I really would love to do it again, I hope everybody agrees with that. So ladies, thank you very much again!!!

XoXo,
Carolien
PS. Afgelopen maandag stond mijn gastblog op de blog van wondervol.nl! Mocht je het nog niet gezien hebben, neem dan zeker nog even een kijkje! Ik kreeg veel leuke reacties en denk dat ik dit vaker ga doen en dan op mijn eigen blog! http://wondervol.nl/in-the-picture-carolien-gastblog/