Na nieuw, komt ook een schoon begin van het nieuwe jaar. Aangezien ik afgelopen zaterdag een workshop moest geven aan twee zussen, moest ik wel mijn eigen werkplek ook opruimen. Een tijdje terug was er op Facebook een actie, wie de rommeligste werkplek had, hij of zij zou dan een mooie tang van Carlo Dona winnen. Daar kon ik goed aan meedoen want het was echt een zooi, zoals je kunt zien op de foto. Nu merk ik daar niets van, want voor mij is het mijn creatieve chaos en ik weet echt van elk staafje welke kleur het is en wat ik ermee wil. Maar voor anderen is het toch minder prettig werken, zeker voor een beginner. Als die daartussen de juiste kleur moet zoeken…
After new, comes a clean start of the year. Since I had to teach a beginner workshop last Saturday to 2 sisters, I had to clean my own workbench. A while ago on Facebook there was an event, the person with the messiest workbench would win a great tool by Carlo Dona. I joined, since my bench was a big mess, as you can see on the photo. I don't notice it, because it's my creative chaos and I know every rod which colour it is and what I want to do with it. But for other, specially newbies, I don't think it would work. If they had to find the right colour in there…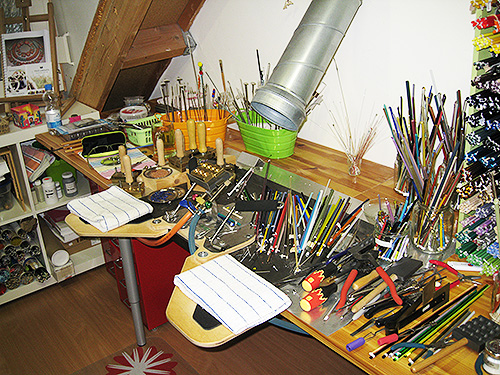 Maar dat is dus nu niet meer zo, het is weer mooi opgeruimd en schoon. En zoals je hieronder kunt zien helemaal klaar voor de workshop, inclusief een etagere met lekkers 🙂 En mijn werkplek lekker schoon, met alleen wat basisstaafjes die klaar liggen voor de dames.
_
But now it's not that way anymore, it's nice and clean. And as you can see all ready for the workshop, including an etagere with chocolates 🙂 And my workbench is nice and clean, with only some basic rods ready to be used for the ladies._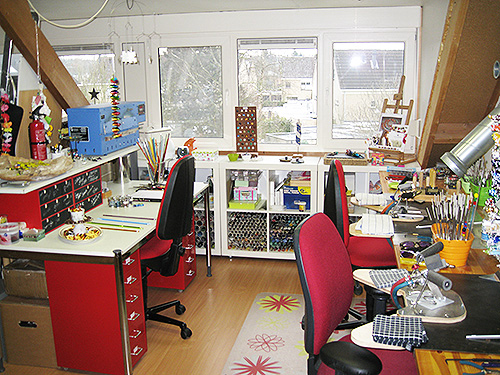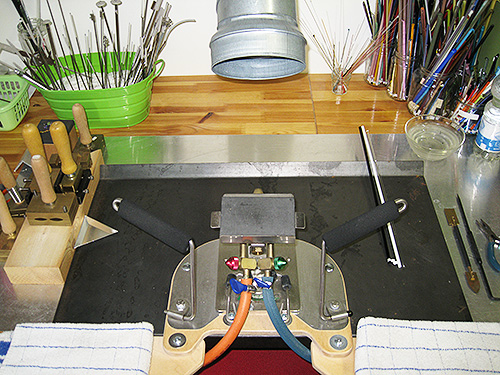 De dames hebben genoten en dankzij hun broer, van wie ze de workshop als verjaardagscadeau kregen, zijn er ook wat leuke foto's gemaakt. Dankjewel Paul dat ik deze mag gebruiken!
Both ladies enjoyed it and thanks to their brother, of which they got the workshop as a birthday gift, there are also some nice photos. Thank you Paul for letting me use them!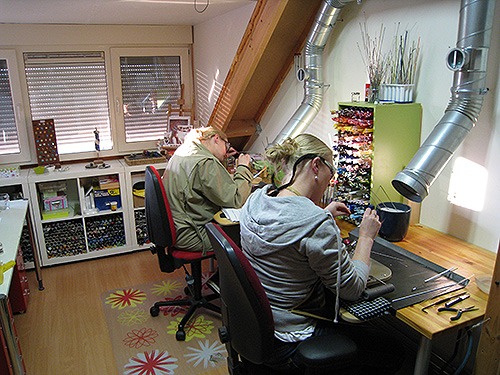 De dames wisten totaal niet wat ze moesten verwachten, het was een grote verrassing. Maar beiden hadden duidelijk een creatieve aanleg en toonden zich als natuurtalenten. De kralen zijn erg mooi geworden zoals hier onder te zien op de foto!
Both ladies didn't know what to expect, since it was a surprise. Buth both obviously are very creative, and showed themselves as natural talents. The beads turned out very nice, as you can see on the photo below!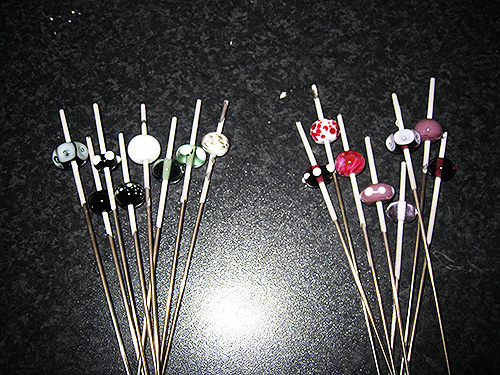 En nu kan ik lekker weer een enorme chaos gaan maken gaan genieten van zelf kralen maken in mijn schone atelier…
And now I can enjoy making a chaos again working some nice beads in my clean studio…
XoXo,
Carolien