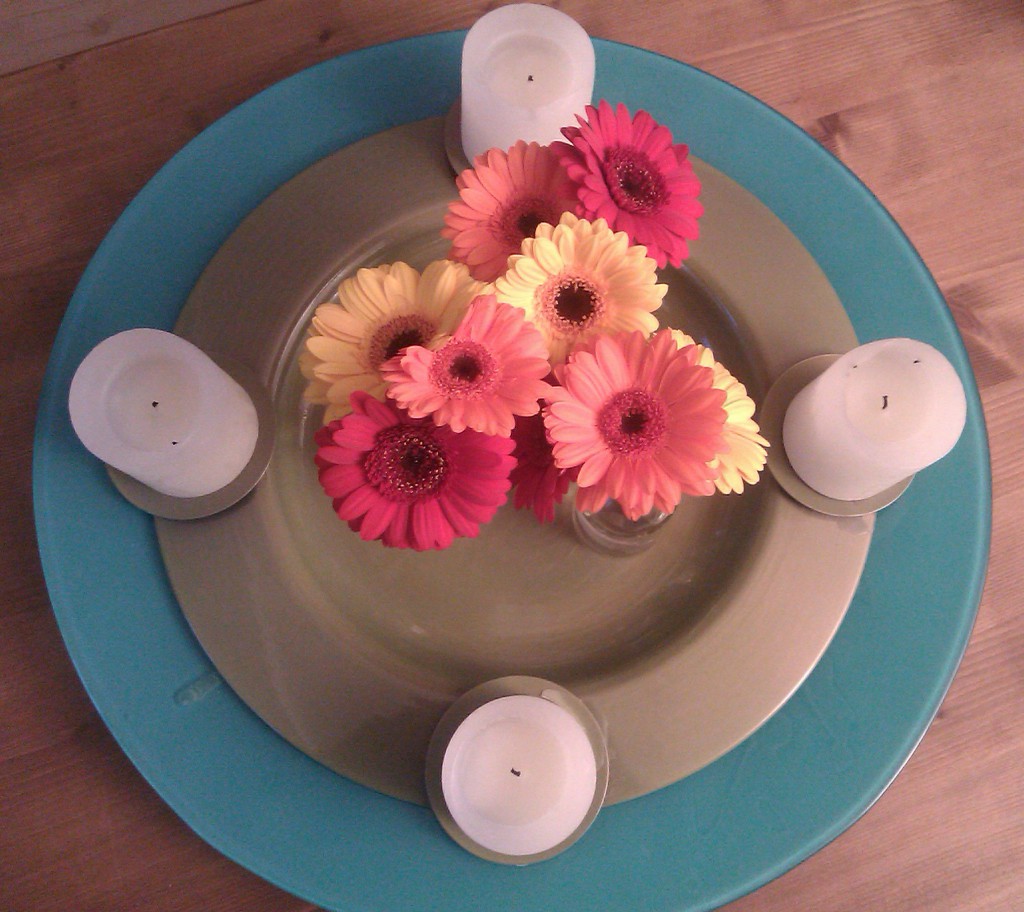 Half april al weer en eindelijk lente! Een spannende en leuke week, die ik weer even samengevat heb in collages 🙂
_
Halfway April already, and finally spring! An exciting and great week, which I summarized in photo collages 🙂_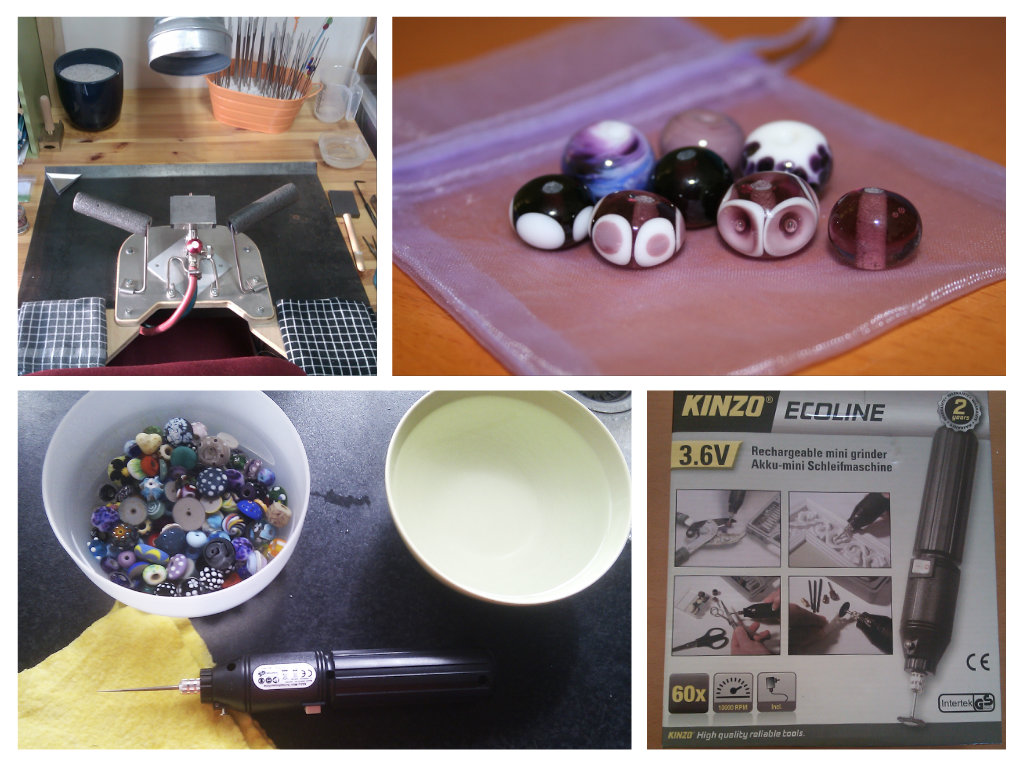 We beginnen met kralen! Ik gaf deze week een beginners workshop en moest de werkplek weer opruimen 🙂 Het waren weer hele mooi kralen en ook een heel enthousiaste dame! Komende week komt ze weer, dit keer om ringtops te maken. Ook kocht ik een nieuw slijpertje, ik maakte de kralen altijd met de hand schoon, maar kon dan maar een paar kralen doen en kreeg pijn in mijn pols. Nu dus elektrisch, oplaadbaar en draagbaar en het is zo gepiept. Dus de grote bak met kralen moet er nu aan geloven, stap voor stap worden ze schoon, want door de trilling moet ik wel op blijven letten met mijn pols 🙂
Starting with beads! I taught a beginner class and had to clean the workbench 🙂 She made beautiful beads and she was very enthusiastic! Next week she'll be here again, this time to learn to make ringtops. I also bought a new grinder, I always cleaned the beads by hand, but I could only do a few each time, because my wrist would start to hurt. Now I have one that is electric, rechargeable and portable and it's just easy. So the big bowl of beads is now finally to be cleaned, step by step they will be, since the vibration is still not that nice for my wrist 🙂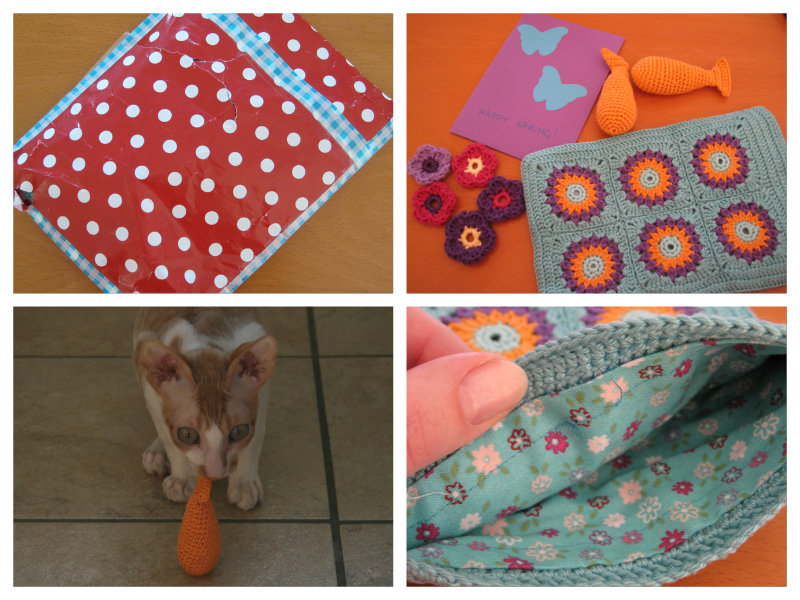 Via Twitter deed ik mee aan een lenteswap. Dit is wat ik kreeg van Zjizjipke, een prachtig e-reader hoesje, wat ook nog eens heel mooi gevoerd is, 2 visjes voor Leia en Binx waar ze al gelijk heel enthousiast mee speelden en bloempjes om op mijn eigen creaties te naaien. Echt helemaal super! Foto's van wat ik verstuurde heb ik niet gemaakt helaas… dom he?!
_
Via Twitter I joined a spring swap. This is what I got from Zjizjipke, a beautiful e-reader sleeve, which is beautifully lined, 2 fishes for Leia and Binx with which they started to play very enthusiastically and flowers to sew on my own creation. Really great! I forgot to take photos of what I sent… clever right?!_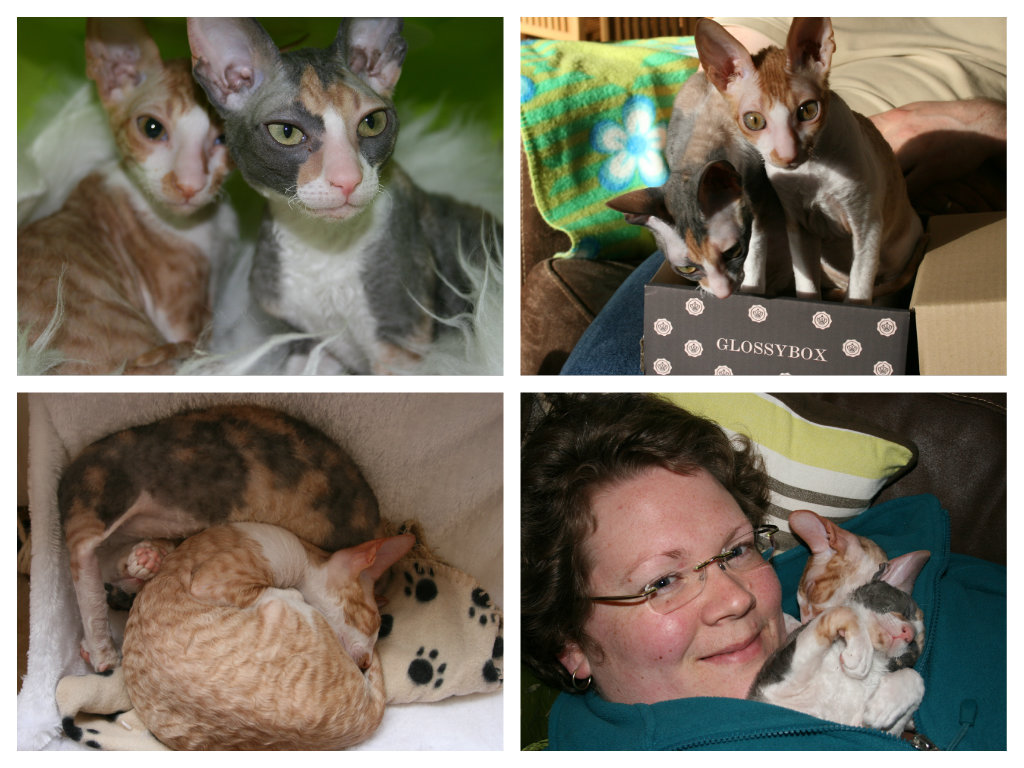 Dinsdag werd Binx gecastreerd, aangezien Leia toch wel wat krolse trekjes begon te vertonen. We hadden voor de warmte een schapenvachtje in de reismand gelegd en toen Binx weer thuis kwam hebben ze hier samen heerlijk de hele dag in geslapen. Binx was gelijk vrij goed te pas, liep rond en er was weinig aan hem te merken. Verder waren ze heerlijk knuffelig deze week en nog steeds vrijwel altijd samen. Een favoriet plekje is momenteel in mijn vest…
Tuesday Binx was neutered, since Leia was showing signs of being in heat. We put a nice sheepskin in the carrier and as Binx came home, he and Leia slept in it all day. Binx was feeling quite okay afterwards, he was just walking around and you didn't notice anything. Further they were cuddly all week and still almost always together. One of their favorite spots is now in my vest…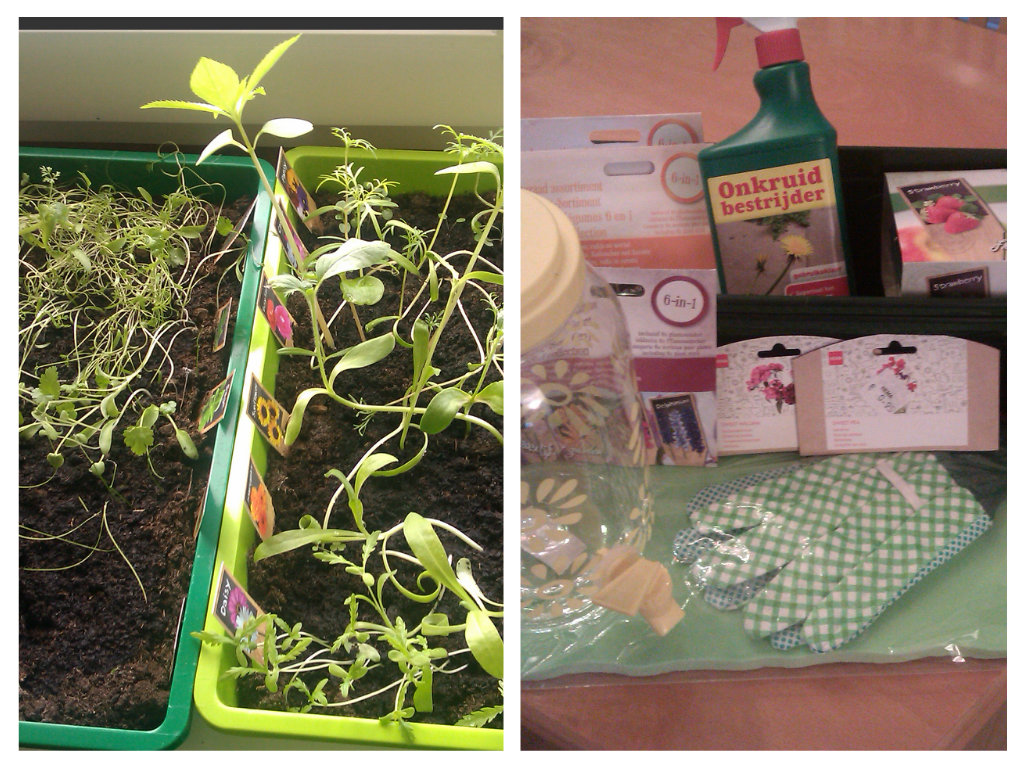 Mijn gezaaide plantjes, kruiden en groenten doen het heel erg goed! Ik moet zelfs al gaan verpoten. Daarom kocht ik bloembakken en nieuwe zaadjes voor bloemen en groente om in de bakken te zaaien. Nu nog een beetje opschieten met de tuin, dan kan het naar buiten 😉
My plants, herbs and vegetables are doing well! I even have to change them into bigger pots. So I bought planters and new seeds for more flowers and vegseeds. Now we just have to hurry up with the garden, so everything can go outside 😉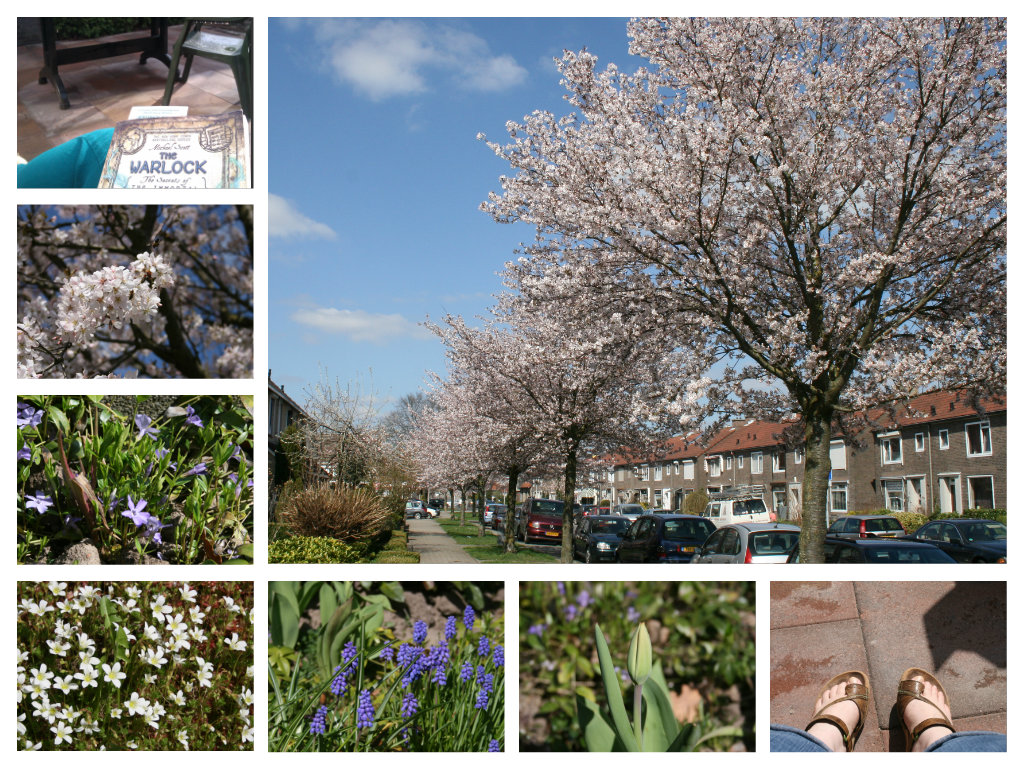 En yes, het is eindelijk lente! De bomen in de straat zijn in 3 dagen tijd van niets naar volledig in bloei gegaan! Zo geweldig om de straat in te komen en dan die hele rij bomen in volle bloesem te zien. Ik ben echt dol op de lente. Ik heb heerlijk buiten gezeten met een boekje en haakwerk en genoten van de bloemen die al in de voortuin staan.
And yes finally spring time! The trees in our street went from nothing to full bloom in 3 days! It really is an amazing sight to see the whole row of trees in bloom. I love spring. I´ve been outside in the sun with a book and my crochet and really enjoyed the flowers in the front garden.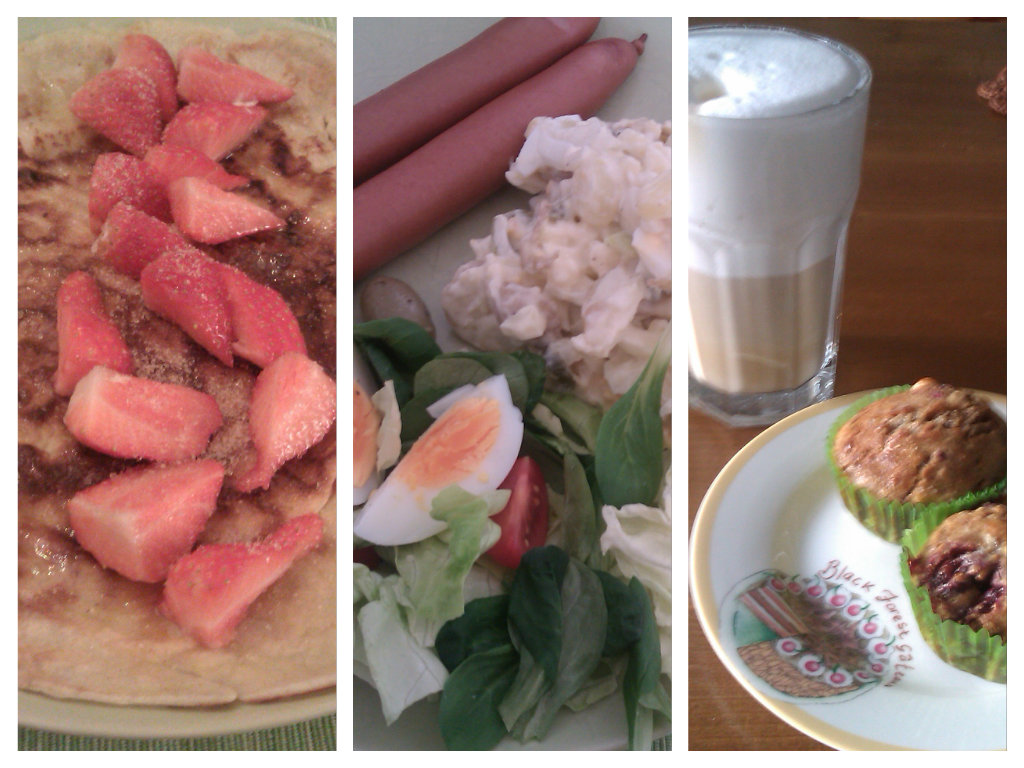 En we hebben de week zulke lekkere dingen gegeten. Pannenkoeken met aardbeien, aardappelsalade met knakworst en sla, een echte klassieker en voor mij pure nostalgie en ik bakte zaterdag nog frambozen/witte chocolade muffins. Helaas vielen ze tegen, ze waren niet luchtig maar heel stijf… kortom ruimte voor verbetering van recept 🙂
And we ate a lot of nice things this week. Pancakes with strawberries, potatoe salad with sausages and salad, a real classic for me, nostalgia… And Saturday I baked raspberry/white chocolate muffins. They were not that nice, they weren't fluffy but really stiff… so i really have to improve the recipe 🙂
Fijne week! Have a nice week!
XoXo, Carolien